A report by Benjamin Hoffman for The New York Times.
Adrian Beltre does not like to have his head touched.
That's an odd thing to focus on when considering Beltre, who announced his retirement on Tuesday and will almost assuredly be a first-ballot Hall of Famer, but watch one of the many videos of his reaction to even the slightest contact and you'll understand.CreditCreditVideo by Alex Delije
Once you get past that quirk to end all quirks and really dig into Beltre's 21-year career, you will find that one of the greatest third baseman to ever walk the planet was hiding in plain sight all along.
With Beltre, you have the big traditional numbers: 3,166 hits, 477 home runs, 1,707 runs batted in. You have the awards: five Gold Gloves, four Silver Sluggers, four top-10 Most Valuable Player Award finishes. And you even have an outrageous advanced statistic: 95.7 career wins above replacement, which trailed only Albert Pujols among active players before Tuesday's announcement.
By the statistic JAWS, which was developed by Jay Jaffe, author of "The Cooperstown Casebook," in an effort to capture a player's overall talent as well as the explosiveness of his peak, Beltre ranks as the fourth greatest third baseman in major league history, behind only Mike Schmidt, Eddie Mathews and Wade Boggs.
It may seems crazy to rank Beltre above such luminaries as Brooks Robinson and Chipper Jones, but Schmidt said that distinction might not go far enough for Beltre.
"How about Beltre?" Schmidt said in March. "First-ballot guy, kind of hid in the weeds most of his career. Isn't he now a 3,000-hit guy? He's gotta be considered past me in terms of the greatest of all-time."Beltre hit 477 home runs in his career despite spending his first 12 seasons in pitchers' parks. He made up for lost time once he got to a hitters' park with the Texas Rangers.
"He'll bypass me," Schmidt added. "Why not? He wins a Gold Glove every year and hits 40 every year; that's better than me."
The most underappreciated aspects of Beltre's mastery of the game were his longevity, his defensive prowess, and the parks in which he spent much of his career.
His 2,933 career games ranks just ahead of Robinson for 14th all-time and his 11,068 at-bats rank eighth. He was a major league regular by the time he was 19 — it was determined after he had made the majors that the Los Angeles Dodgers had improperly signed him a year too early, which resulted in several suspensions as well as the team being forced to pay Beltre damages — and was still an above average player at 39.
"I remember one time I was going to give him a day off, and we're on the field and he just could not help himself," Ron Washington, one of Beltre's managers with the Texas Rangers, said in an interview on MLB Network Radio on Tuesday. "I've never told anyone this story, but I said, 'Adrian, I'm going to kneel down here, I'm begging you to take the day off. People don't know what I'm doing, but I'm on my knees begging you to take the day off.' That was the only way I got him to take the day off — I actually got on my knees."
Beltre finally relented. "And you know that resonated with everyone in that clubhouse," Washington said, "because no one wanted to take a day off, simply because they watched Adrian."
Perhaps the most impressive aspect of Beltre's durability is that he kept himself on the field at such an advanced age thanks in large part to his glove.
Defense can be hard to quantify, as the more modern statistics have only been tracked since the early 2000s, but using the best methods available from each season, Baseball-Reference credits Beltre with 23.1 career defensive WAR at third base, which trails only Robinson, who had 39.1 using far less precise methods of measurement.
Since 2003, when Sports Info Solutions started tracking defensive runs saved, a hybrid of scouting and stats that provides far more context for a player's abilities, Beltre stands alone. His 222 runs saved are not only the most among third basemen — Scott Rolen is second at 114 and Nolan Arenado has 109 — but they are the most of a player at any position, as he holds a 38-D.R.S. lead over Andrelton Simmons, the Wizard-like shortstop of the Los Angeles Angels (though, in fairness to Simmons, Beltre had nine more years in the D.R.S. era to compile those numbers).
Beltre's eye-popping runs saved numbers are a reflection of his ability to make any kind of play in the field.
In one four-season span, Sports Info Solutions rated him as the best third baseman in baseball at turning balls hit down the third base line into outs, and in an entirely separate three-season span, he was the best third baseman at turning balls hit in the shortstop-third base hole into outs, according to that company's plus-minus system.
"He was able to be great going in one direction without sacrificing excellence going in the other direction," Mark Simon, a senior researcher for Sports Info Solutions, said in an email.View image on Twitter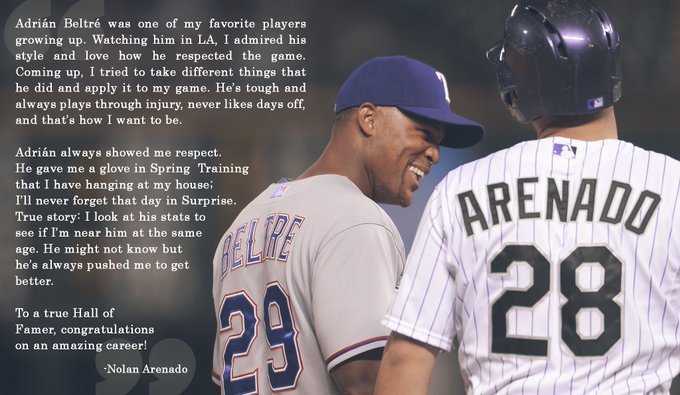 From Nolan Arenado to Adrián Beltré.#ThankYouAB
All of that leaves Beltre's 3,000 hits as a middle-of-the-order slugger as something of an afterthought. But even as a batter, with easier to understand statistics, Beltre may be underappreciated.
To get an idea of why, you have to consider where Beltre spent the first 12 seasons of his career. He started at Dodger Stadium, which played as a pitchers' park in all seven seasons he was there, and then he moved to Seattle's Safeco Field, a notoriously difficult park where home runs go to die on the warning track. As a result, he spent the first 13 years of his career performing far better on the road than he did at home, with the most extreme season being 2001, when his on-base-plus-slugging percentage on the road was 200 points higher than his percentage at home.
Beltre may have spent the last eight years of his career in the Rangers' hitter-friendly park, but he still finished his career with more hits, home runs and R.B.I. on the road than he had at home, and his .818 road O.P.S. is the 19th highest of any player who compiled 5,000 or more at-bats away from home, ahead of Hall of Fame infielders like Cal Ripken Jr., Derek Jeter and Paul Molitor.
When you add all of it together, Beltre easily backs up Schmidt's praise. And in five years, it will be no surprise when he walks across the stage in Cooperstown as the newest Hall of Fame inductee. Hopefully no one will touch his head.