Caryl Phillips was born on St Kitts and brought to England as an infant, so it's no surprise that alienation, identity and colonialism are familiar themes in his work. His new novel explores the life of Ella Gwendoline Rees Williams, otherwise known as Jean Rhys. Phillips's previous book, The Lost Child, imagined the childhood of Wuthering Heights's Heathcliff, presenting him as the illegitimate son of Mr Earnshaw and a former slave. Rhys, in her most famous work, Wide Sargasso Sea (1966), cast that first net with her haunting portrait of Antoinette Cosway, the young Caribbean heiress who provided a backstory to Jane Eyre's Bertha, "the madwoman in the attic". It seems almost inevitable that Phillips should turn his attention to Rhys.
This tight novel, made up of 10 parts and 65 compact chapters, employs a non-linear narrative, moving between England in 1936 and the Dominican childhood of Gwendolen, his protagonist, with forays into the intervening years. There is no shortage of biographical material on Rhys. We know from both Carole Angier's Jean Rhys and Lilian Pizzichini's The Blue Hourthat she was born in 1890, the fourth child of a Welsh doctor and a fourth-generation white creole mother. She lived in Dominica until 1907, when she left for school in England.
As Phillips's novel opens, we meet Gwendolen and her husband planning her first return trip to Dominica. England is grey, morose, dripping. There are signs of violence, alcoholism and unhappiness in the marriage; we are told of a fight in a pub. Then it switches gears, and we are in Dominica with Gwen as a child. There is much beautiful writing in the novel. This landscape, with its "sharp smell of dark velvet nights and the musical beat of rain on tin roofs", is a different world. When the newly returned Gwen looks at Martinique from Dominica, she sees the "ghostly outline of a rainbow, one foot of which was dipped into the sea". The prose is smooth and supple as we follow Gwen's journey from a privileged, if conflicted, white colonial girl to the bitter, angry woman we meet in 1936.
Phillips writes of Gwen's longing for freedom manifesting itself in a conflicted yearning to be "black". In an early scene, Gwen's mother holds a tea party to commemorate Queen Victoria's death. In a fit of disobedience, Gwen refuses to attend and escapes up a mango tree. Below her, one servant says to another: "It look to me like Miss Gwendolen catch somewhere between coloured and white." In Dominica, the contradictory schisms between the black and white worlds disturb her. In England, she struggles to navigate a rigid middle class where she has no place, her strange "guttural tongue" making her too creole, too foreign. Most creole-born colonials perceived the "motherland" as a pastoral heaven. The reality was a cruel shock: "To her eyes, London appeared to be comprised of little more than endless rows of houses boxed tightly together so that it would be logical for any newcomer such as herself to assume that English people lived like yard fowl in small coops."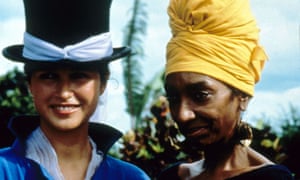 Despite spending most of the rest of her life in Britain, Rhys remained an outsider. By 1936, she had completed her third novel, Voyage in the Dark. While Voyage mined her Dominican childhood, it also showcased the Rhys heroine: powerless, unstable, getting by on her wits. Like Rhys herself, her main characters battled abandonment, alcoholism, sordid poverty. Her struggle to reconcile her conflicted identity was the source of much misery. But it was also the engine that generated her startling work.
Phillips's choice to bypass both the writing and her literary life is perplexing. Her notorious experience with her mentor, Ford Madox Ford, who provided her pen name, goes unmentioned, as does the fact that Leslie Tilden Smith, her beleaguered husband, played a great part in introducing Gwen/Jean to literary London and getting her first books published. It could be that Phillips is steering us to look into the negative spaces of the novel to fill in the gaps, making his writing assume centre position through what is not said. Or is it that every novel shapes itself to reveal the author's truth? Phillips writes of a dying empire, laying bare the human cost. If to Gwen it all lies in decay – temps perdi, meaning lost or wasted time in patois – it is because there is no longer room for her; but the island, and its terrible beauty, will endure.
On four occasions, Gwen glimpses a "negress". As she embarks for England, her father visits a dying black woman. Next, she sees one who is ailing on the ship. In France, the "negress" is an entertainer who "left her window open and played gramophone records from early in the morning to late in the afternoon". Near the end of the novel, Gwen witnesses a lovely calm scene. On the rocks overlooking the harbour, she sees "a young negress standing by herself and pressing a headscarf to her hair as though worried a sudden flurry might at any moment strip it from her". These transitions from death and illness to youth and vitality counterpoint Gwen's own journey into unhappiness and old age. The end of an empire.