Creator Wesley Louis talks about incorporating his Saint Lucian roots into the animation.
A report by Sajae Elder for The Fader.
The lush landscapes of the Caribbean don't immediately spring to mind when you think of anime, yet it makes for the perfect backdrop in the anime-inspired short, The Mighty Grand Piton. Set on the island of Saint Lucia and against its famous mountains Les Pitons, the short follows a young British girl with Saint Lucian roots who discovers a mysterious giant robot while on a family holiday. It clocks in at around 90 seconds, but offers up more than enough for it to rival any animated saga. For as much as the short pulls directly from anime, it's distinctly Caribbean in a medium where representation of the region is slim — down to Saint Lucia's flag emblems built into the robot's design and its soca-infused theme song.
The FADER spoke to the short's creator, Wesley Louis, about the process of pulling it all together.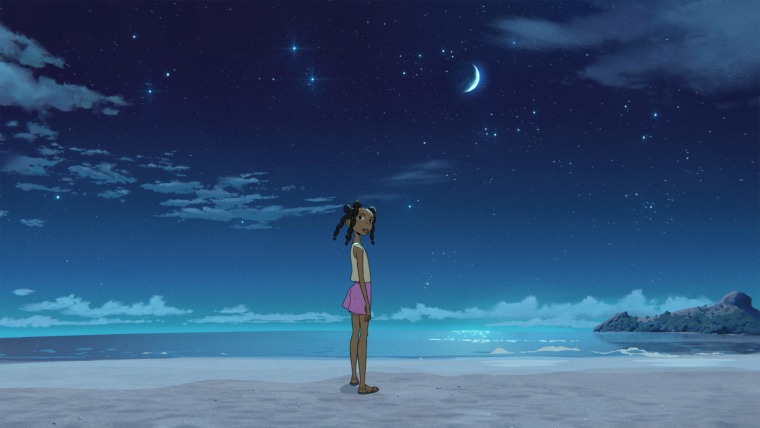 Why was it important for you to set this story in Saint Lucia, since the Caribbean isn't really a landscape we see often in anime or anime-influenced work, if ever?

I was born and raised in London and my parents are both from Saint Lucia, so I've always wanted to tell a some sort of story on where my family is from and I finally came up with something that feels right and that I'm passionate about. I don't think we're used to seeing animation with a mainstream aesthetic that depicts West Indian culture. I actually googled Caribbean anime and the only thing that came up consistently was Pirates of the Caribbean fan art. It's exciting and daunting to think that TMGP could be the first.
What was the thought process behind creating that juxtaposition between this mechanical entity in an environment that's so organic?

I think in places like the Caribbean we tend to forget that people dream and have fantasies and love super heroes like Spider-Man or action adventure anime like Dragonball Z. I guess in many ways I was prisoner to my own subconscious programming, and probably couldn't come up with something like TMGP before.
What was the actual process like to bring this to life? Where did you start?

The first drawing of Grand Piton is actually on my Instagram.
I was directing a commercial for a company that featured anime-style robots, and while I had some down time I did a quick sketch with the hashtag #CaribbeansLikeRobotsToo. That was in June 2017, so it took about a year and a half for me to actually start production. I pitched the idea to my company 'The Line Animation,' a studio I own and co-founded with five others: Tim McCourt, Max Taylor, Sam Taylor, James Duveen and Bjorn Aschim
I also wanted to exploit an animation pipeline that we developed along with a VR company called No Ghost who we currently share a studio with in East London. Using this pipe line we implemented 3D techniques that give a hand drawn animation cell look. It was great to collaborate with them again.
Talk to me about the theme song! It's definitely soca while still being cinematic in a way we expect from anime.

The theme song is something I'm particularly proud of. It was written, composed and performed by Rina May, who I've collaborated with for a few years. She's also behind the theme for another short film I created and directed in 2015, Super Turbo Atomic Ninja Rabbit. Imagine a soca tune that you'd hear in anime like One Punch Man or a huge epic like Gladiator. It's a combination of music I've never heard before, but something I was convinced that could be done. Rina found it to be quite a daunting task, but she's of Dominican descent and has an eclectic taste in music. I'm not sure I can think of anyone else that could have pulled it off. It literally almost brought me to tears. [laughs]
What were you listening to as you were animating this?

A few things from anime series like One Punch Man, Gurren Lagann, and My Hero Academia theme songs. I also listened to a lot of Soca. "Soca Kingdom" by Machel Montano, "Phenomenal" by Benjai which is a song I absolutely love. "Activate" by Nessa Preppy and a "Little Wine" by Patrice Roberts and of course "Full Extreme" by Ultimate Rejects to name a few. We also listened to some old Saint Lucian Folk music. [Max Taylor] found a trailer for the documentary The Folk Was in Me: A Film On The Kwasdril Culture Of St Lucia on YouTube. It had some incredible music on it. Rina drew some inspiration from that using TMGP melody she had already come up with. I think Rina had some of her own influences and injected some of her own flavor into the piece. I think this sound is the perfect example of a cross pollination of cultures.
We see a lot jam-packed into a minute and a half but it leaves us with a lot of questions. Talk to me about the larger story you were aiming to tell.

I'm still developing a story at the moment. I wanted to leave the piece as open-ended as possible, hopefully leaving people wanting more.
It's presented as this short concept piece and it left me wanting to watch this as a series. What are the plans to bring this to life in a larger way?

I definitely want to do a long form version of TMPG. I'm hoping to collaborate with the right people to make a series and if that's successful, a movie. I never realized how much people needed content like this until I put it out. I've had an amazing response and feel fortunate that I'm in a position to create work like this. I think I've found my life's goal.