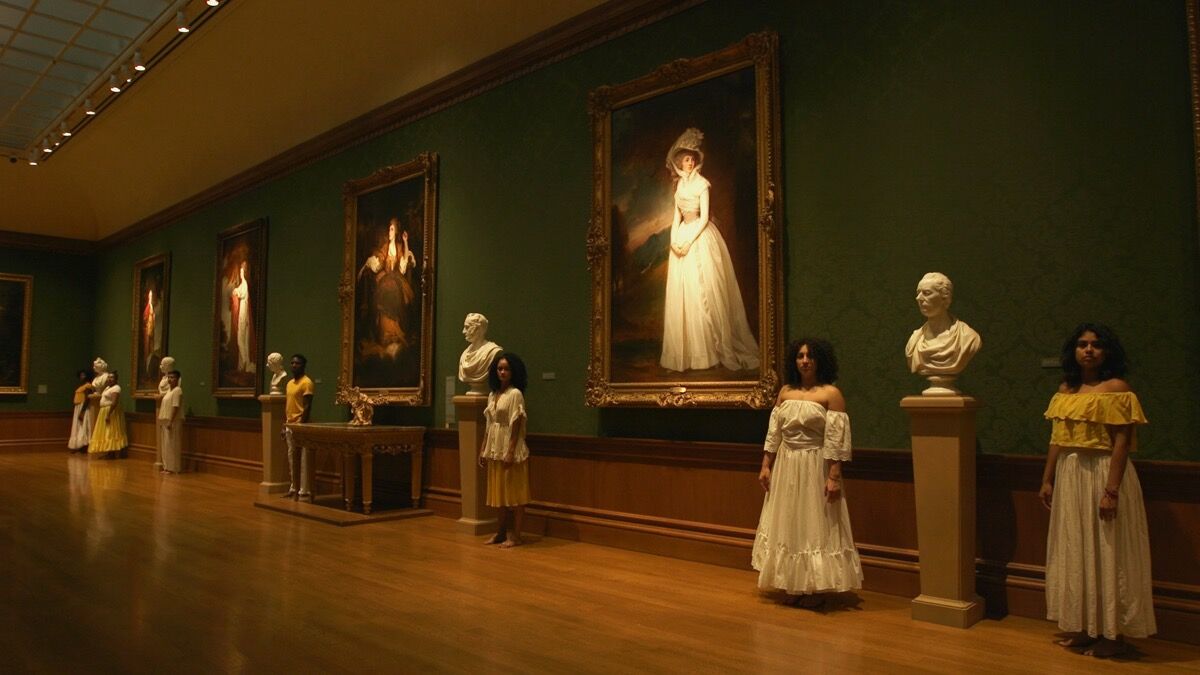 A report by Yxta Maya Murray for Artsy. Our thanks to Peter Jordens for bringing this item to our attention.
The Huntington Library, Art Collections, and Botanical Gardens in San Marino, California, opened to the public in 1928 to showcase the rare English tomes and early American paintings that Henry E. Huntington acquired with the wealth earned off of the backs of the minorities who built his railways. It is a Gilded Age palace built out of exquisite taste and whitewashed pain.
Yet today, in its ordinarily staid galleries, visitors will now see people of color convulsing among the books. Captured on film while dressed in white and tossing their beautiful hair, these banshees throb and jerk in the institution's main exhibition hall, which hosts rarities such as a first edition of 
John James Audubon
's 
Birds of America 
and a Shakespeare First Folio
.
 The video then jumps, revealing the provocateurs flanking pallid marble busts of 17th- and 18th-century English grandees, staring at their observers with fierce expressions. The performers then tumble and crawl down the staircase of Henry E. Huntington's Beaux-Arts mansion. Finally, while draped in bright fiber nets, they romp and tremble through the property's empire-tastic "
themed gardens
," which boast mini "Australian," "Jungle," "Chinese," "Japanese," and "Camellia" parklands.
Carolina Caycedo, still from " Apariciones /Apparitions." Choreographed by Marina Magalhães and shot by David de Rozas.
These scenes—from
Carolina Caycedo
's 
Apariciones
 ("Apparitions")—form part of the Huntington Library's "Rituals of Labor and Engagement" show, which displays Caycedo's collages and film alongside the drawings of artist 
Mario Ybarra Jr
. Featuring works all made in 2018, and staged in collaboration with the Vincent Price Art Museum, the exhibition is the third installment of the Huntington's exciting "/five" series. This endeavor sees the library partnering with cultural organizations and allowing artists to engage with its vast and precious collection.
The series initiated in 2016, when the Huntington invited scientists from NASA and the Jet Propulsion Laboratory to build a sound installation that represented the movement of the International Space Station. The next year, the Huntington's hushed halls filled with the tumult caused by artists affiliated with the Los Angeles–based Women's Center for Creative Work. For that exhibition, Jheanelle Garriques responded to the Huntington's Anglomaniac bent by curating a bluestocking storytelling, letter-writing, and dance event; Kiki Loveday reacted to the library's rich holdings of classical images through her creation of a Sapphic and queer florilegium of ephemera.
Now, it's Caycedo and Ybarra's turn to shake the Huntington down to its foundations with their interventions. Caycedo, born in London of Colombian parents and currently living in L.A., possesses an art practice that invests deeply in community engagement. Her past projects include Be Dammed, an installation of fishing nets, which reflected the impacts of water privatization in Colombia, Mexico, Brazil, and Guatemala; as well as 2013's Less Than Lethal, a series of inkjet prints depicting how state police suppress dissent through technologies such as rubber bullets, water cannons, and electric tasers.
Carolina Caycedo, photo from "Apariciones /Apparitions." Choreographed by Marina Magalhães and shot by David de Rozas.
Caycedo's commitment to the collective informs her two-part contribution to "Rituals of Labor and Engagement." In the aforementioned video, Apariciones, the performers clash and fuse with the Huntington's massive assemblage of cultural products, purchased with the largesse arrogated by the Huntington family when it steered the Central Pacific Railroad and built Southern California's Pacific Electric Railway in the late 19th and early 20th centuries. Both of these transportation behemoths exacted terrible injustices on people of color: While under the leadership of Henry Huntington's uncle, Collis, more than 7,000 Chinese laborers built the Central Pacific under bone-shattering conditions. When they struck for higher wages in 1867, foremen cut off their food supply. Henry Huntington himself later focused on Southern California's "Red Car" system with Pacific Electric Railway, and continued the tradition of playing hardball with protesters. In 1903, Latino laborers struck to protest wages and to seek an increase in overtime pay. Huntington ordered L.A. police to arrest any picketers.
The Huntington's massive cache reflects its troubling origin story, as Henry Huntington proved just as passionate and selective an art collector as he was an overseer. Beyond celebrating the genius of Jack London, Henry David Thoreau, George Washington, and other glitterati of American cultural and political history, the galleries' lavish paintings—such as 
The
Blue Boy 
(ca. 1770), the library's famous
Thomas Gainsborough
 portrait of a peach-cheeked child squire; and 
Pinkie 
(1794),
Thomas Lawrence
's beautifully kitschy glamour shot of an 11-year-old descendent of wealthy white sugar magnates and slaveowners—glorify Anglo histories of distinction and standards of beauty.
Thomas Gainsborough, The Blue Boy, ca. 1770.
Thomas Lawrence, Pinkie, 1794.
In Apariciones, Caycedo meditates on the significance of her own labor within this haunted space, and also alters our readings of the collections with her disruptions. When the dancers shudder and quake next to the gorgeously bound books, we worry about what those publications' covers might contain. And when Caycedo features two women embracing in the gardens while draped with a fishing net, we can fret over several overlapping problems at the same time—the exclusion of queer people from American history and the dilemma of water inequality in a drought-ridden state.
Caycedo's second contribution is a three-panel screen, entitled To walk in the present looking forward towards the past, carrying the future on our back / Caminar por el presente mirando de frente hacia el pasado, cargando el futuro en nuestra espalda. Here, Caycedo creates a new and necessary archive through a collage of photographs and clippings that she has glued to the screen's wood surfaces. Scanning this album, we find largely black-and-white portraits of black people, Native Americans, and Mexican folks who pose for family portraits, submit to 19th-century taxonomist-racists, or vogue in fancy likenesses that show off their cool clothes.
Mario Ybarra Jr., It's Okay 2 Slay, 2018.
The late photographer
Laura Aguilar
's work looms large in 
To walk in the present
, as the collage includes several images from her 1990s "Nature Self Portrait" and "Clothed/Unclothed" series. "Nature Self Portrait" reveals the nude and large-bodied Aguilar draping herself over boulders in the Southern California desert. Aguilar died of complications of diabetes in 2018; Caycedo's use of her work makes it clear that Aguilar's legacy provided the inspiration for 
Apariciones.
The photograph included from Aguilar's "Clothed/Unclothed" series depicts the photographer Willie Middlebrook embracing his sons. Aguilar found much creative and emotional support in her friendship with Middlebrook, who lent her equipment and encouraged her vision. "Clothed/Unclothed," then, offers a glimpse into the sort of artistic family tree that otherwise finds zero expression in the Huntington's exclusionary archives.
Albrecht Dürer, Knight, death, and the devil, 1513.
Mario Ybarra Jr., In The Beginning, 2018.
Mario Ybarra Jr., who grew up in Wilmington, a blue-collar neighborhood by the Los Angeles harbor, also reworks the Huntington's splendors. His series of drawings cast
Albrecht Dürer
 and the anonymous European geniuses who illuminated early modern manuscripts as harbingers of contemporary Latinx mythmaking. Ybarra places his intricate drawings next to a 16th-century Venetian illumination of a ferocious undine about to strike down an aged Neptune and a 1513 Dürer etching of a sword-bearing knight riding upon a steed. Ybarra's work echoes these 
Renaissance 
marvels, but adds in hip-hop references, saturated color, cartoons, and brown pride. Ybarra reconfigures a Book of Hours's careful calligraphy in 
In the Beginning
, an abecedarium inscribed in a mash-up of 
Flintstones
-meets-Gothic font and foliated by pen-and-inks of Gizmo from 
Gremlins
 and Disney's Mickey Mouse. And in 
It's Okay 2 Slay
, Ybarra puts Dürer's knight's sword in a brown hand and surrounds it with a royal crown, a skull-and-crossbones, and indecipherable neon tags.
Together, Caycedo's and Ybarra's art reimagines the Huntington as a site of hidden history and necessary accountability. Caycedo has said that she regards her artistic process as "rhizomatic"—that is, as one that branches out in a network of roots and tendrils. In this way, both her and Ybarra's work at the Huntington evokes the writings of Simone Weil, the 20th-century theologian, anarchist, and theorist of displacement. In Weil's book The Need for Roots (1949), she observed that "to be rooted is perhaps the most important and least recognized need of the human soul." "Rituals of Engagement and Labor" allows us to contemplate the difficult question of how people of color can fulfill this need within an inheritance of dispossession. By seeding the Huntington with their labor, the artists plant an unthemed garden that spreads wide and deep throughout the Huntingon's lavish façades and treasuries, which once only magnified white supremacy and its crimes.
See also: