Well, this is a bit of a tribute to my late and very dear mother, who used to love watching the national costumes in the Miss Universe pageant. So, Mom, wherever you are, this post's for you.
Let's start with Miss Bahamas (above) as a pineapple. 
Miss Barbados as a flying fish.

Miss Curaçao as the Triumph of Sablika – free woman educated women, women empowerment.
Miss Puerto Rico Kiara Ortega's red, white, and blue costume represented the winds of Hurricane Maria, which wreaked havoc on the U.S. territory in 2017. The dress, which symbolized the resilience of the people of Puerto Rico, featured metallic finishes and LED lights to show the movement of the wind during the storm. She carried a white orb to portray hope for a new tomorrow.
Miss Dominican Republic as a turtle, I hope.
Miss Jamaica celebrated the island's olympic legends.
Aruba: inspired by the country's biggest carnival event.

Miss Belize found inspiration in the Mayan Sun God
British Virgin Islands: representing the lifestyle in the island – turquoise waters, balmy temperature, good food and people's resilience. 

Cayman Islands: sunny body suit with crystals representing the sea and the three stars of the national flag. The skirt is lit by LED lights. 
Great Britain: Representing the Suffragettes that mark their 100th anniversary this year. 
Dee-Ann Rogers made history when she became the first black woman to win the GB Miss Universe Pageant. The 25-year-old hails from Anguilla.
Haiti: Inspired by the country's great weather and carnival creativity.

Miss Panama: inspired by a princess from Pre-Columbian history; made of 3500 golden beads. 

Miss Saint Lucia was inspired by the Mythical Love of the West Indies and Helen of Troy.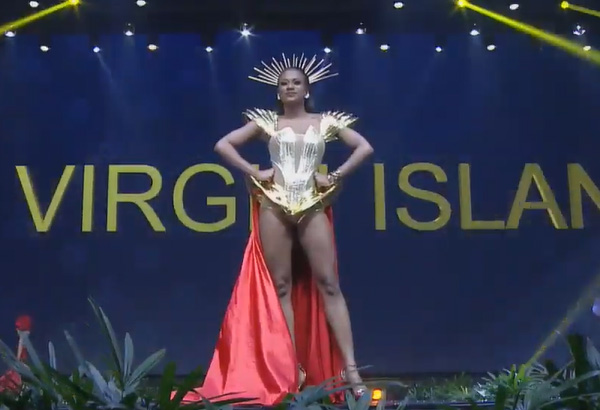 US Virgin Islands: inspired by the phoenix and Queen Mary's reimagined gown in gold corset with jewels.

Venezuela: the goddess of nature depicted in thousands of crystals 

Miss Nicaragua: based on the lines of a female poet's poem about peace and hope.
Miss Costa Rica as a butterfly.
Miss Guatemala: Based on Mayan architecture and civilization and Mayan calendar. 

Colombia: Inspired by national flower,  costume made by indigenous tribe.