One year on, British Red Cross speaks to survivors of Hurricane Irma about what they miss the most. A report by Freya Carr for London's Independent.
Hurricane Irma was one of the most destructive storms in Caribbean history and impacted communities in more than a dozen nations and island territories.
One year after Hurricane Irma brought devastation to residents on the British Virgin Islands, British Red Cross continues to support those affected and help them recover.
Here, people share their stories of loss and recovery.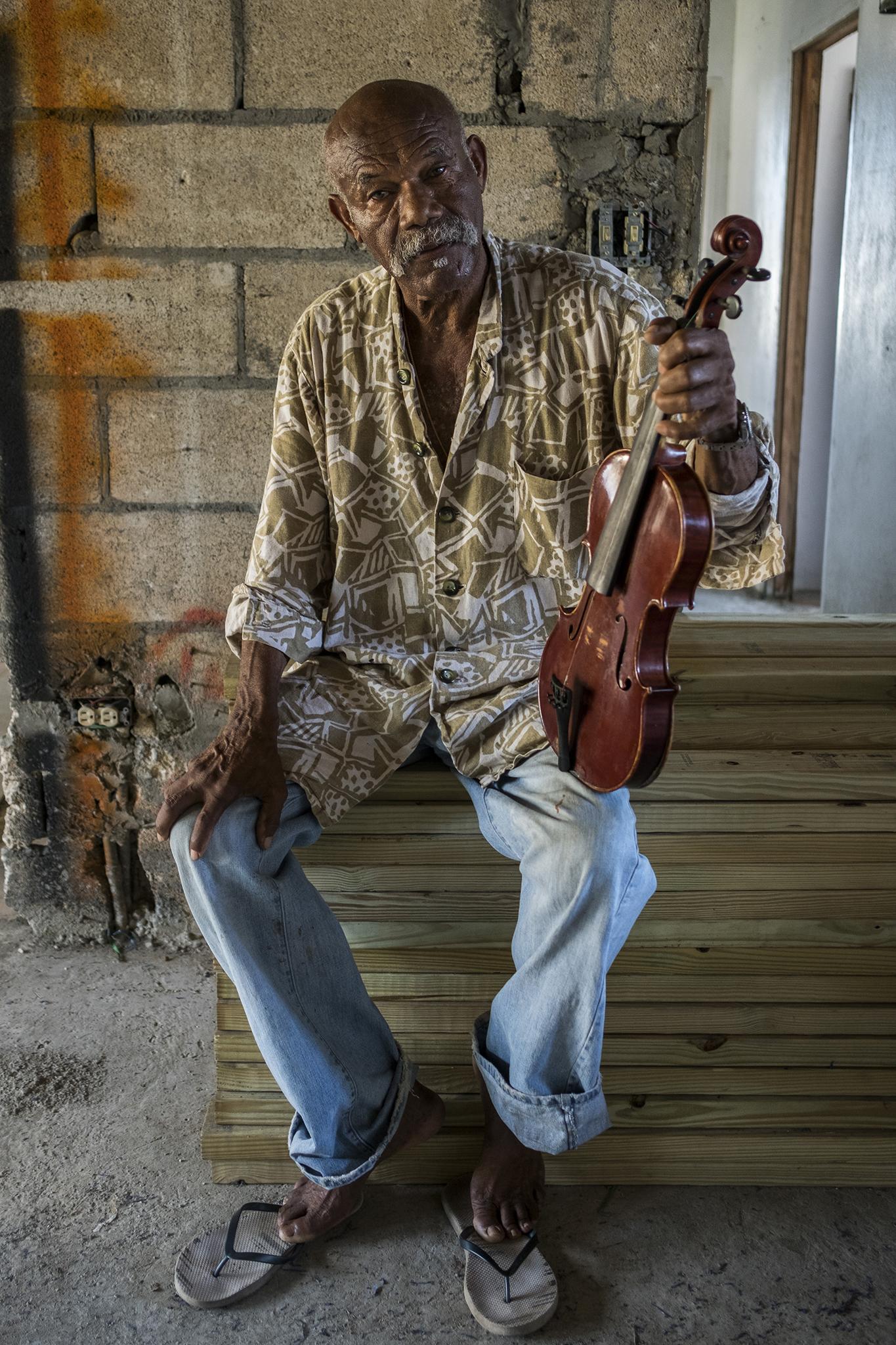 Lorie Rymer, 70, a keen viola player from Tortola, saw his most treasured possession damaged in Hurricane Irma, all he has now is the broken remains.
"My house I will build back, but there's no way that I could replace my instrument, my viola, I cannot replace it. It was just precious, I can still hear it in my mind how it used to sound.
"I would give anything if I might be able to purchase one again, a used one. It has to be very old and seasoned wood, maybe 30, 40, 50 years old. I'm going to take this one with me to the UK and have it repaired."
Inez Gibbs, who is diabetic, lost everything except her bed and her teddy bears. Cash assistance from the Red Cross helped her to support herself while she waited to return to work.
"These and my bed are the only things I saved. The teddy bears are my buddies, they are my friends. I bought them here from Jamaica 20 years ago. Everything else I had I lost.
"The cash I got was very helpful because I wasn't able to work after the hurricane so it helped me to pay my bills and buy my medication."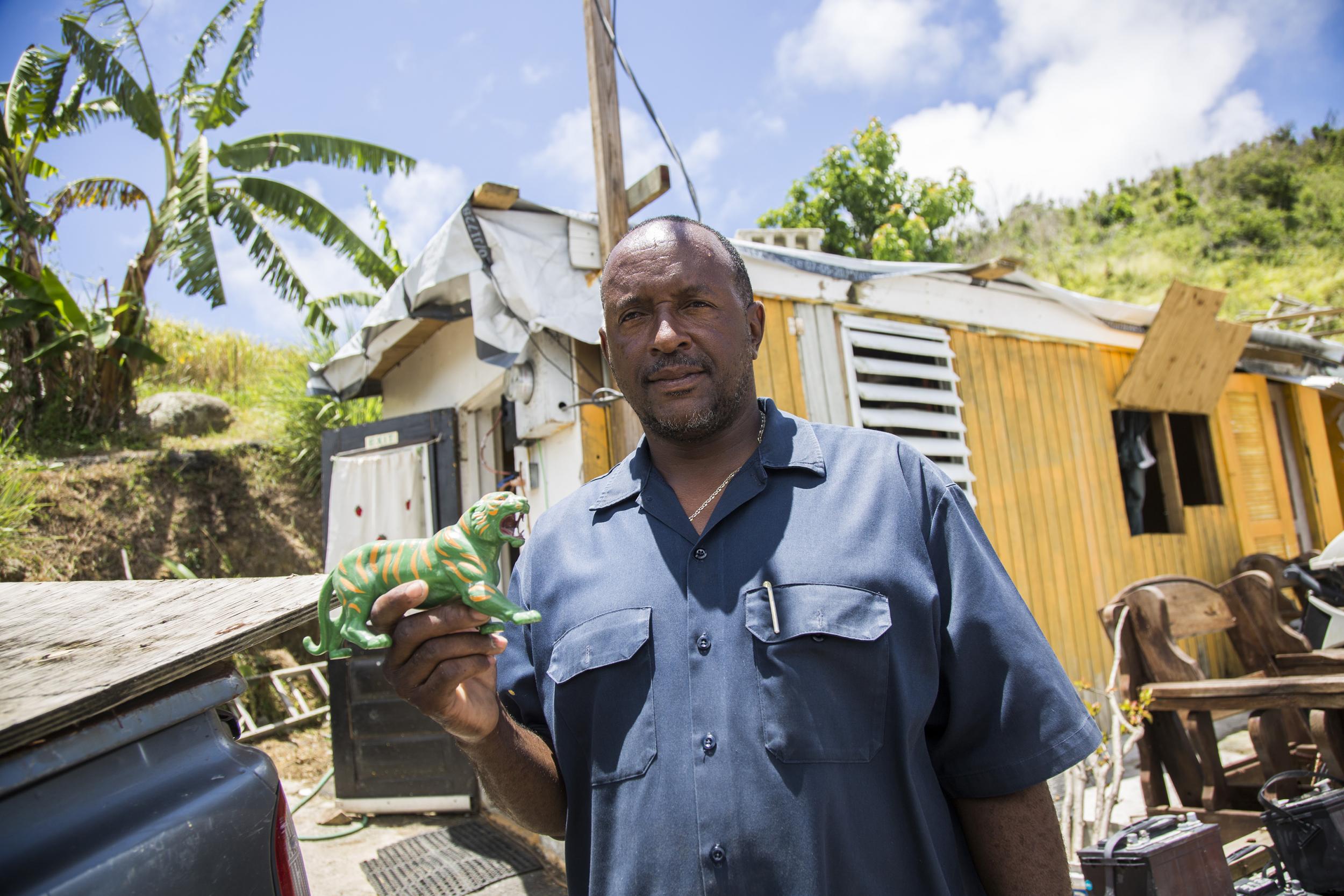 Hurricane Irma destroyed almost everything Darrel Turnball, from Tortola, owned, including his much loved photo album, but he managed to recover one of his favourite childhood toys.
"This is my best friend – I have carried him with me my whole life. When I got married he was with me, when I got divorced he was with me, he goes everywhere I go.
"I was so happy when I realised he hadn't been damaged in the hurricane."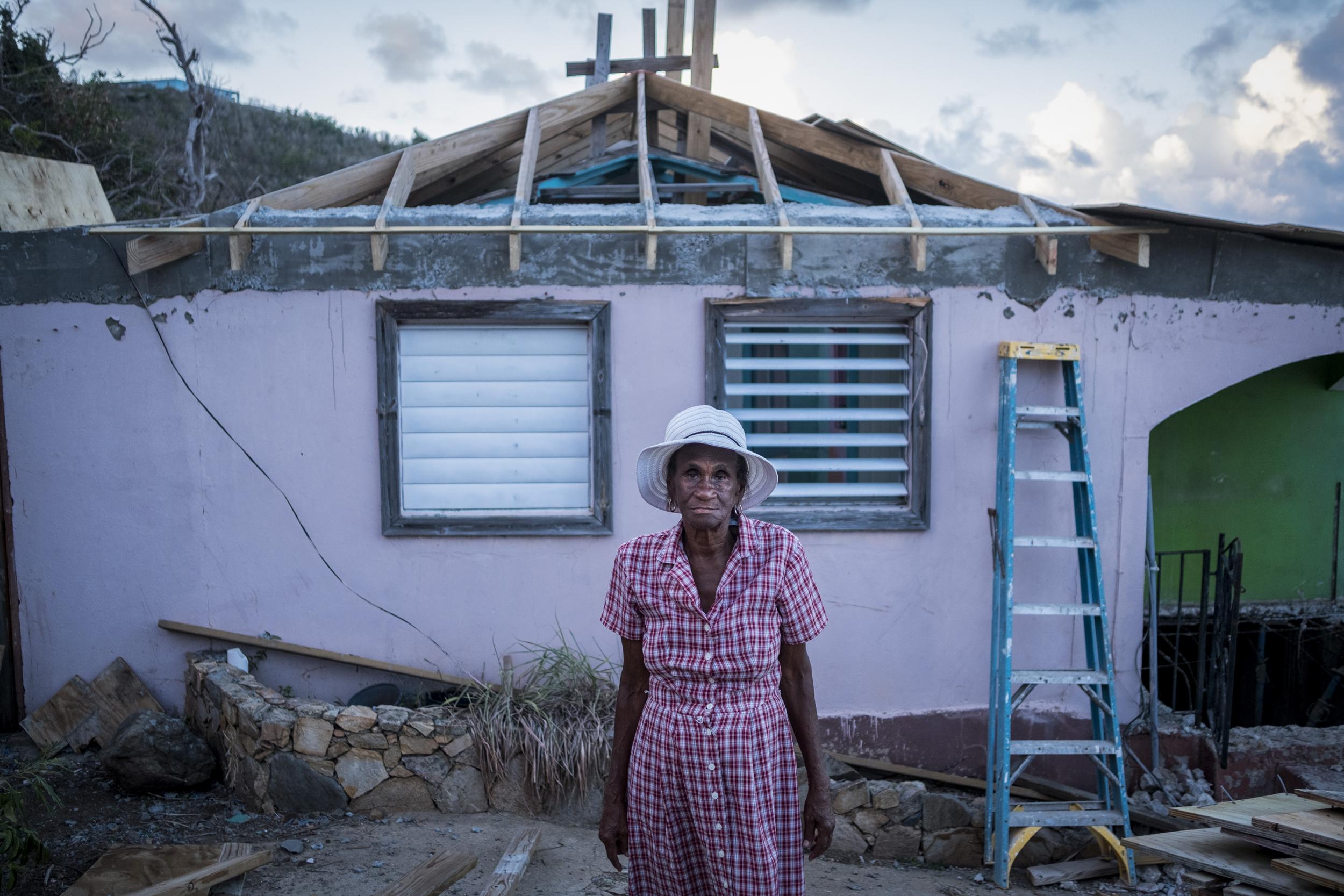 81-year-old Lucia Harrigan, who had lived in her home on Virgin Gorda for 60 years before it was destroyed by Hurricane Irma, is looking forward to returning to her own home.
"When I see the destruction and I see what I had loved so dearly I sit down and I cry. The whole roof went, the shutters, and a brand new washer that I had just bought.
"I lost all my dining chairs, my living room set and a lot of my clothes, but I'm not worried about that, as long as I could find something to wear. But I saved a few things, maybe some are salvageable or maybe not.
"My favourite thing that I lost is the deeds to my land. I hope that I will get back in the house soon, because when you get to my age you like to be by yourself."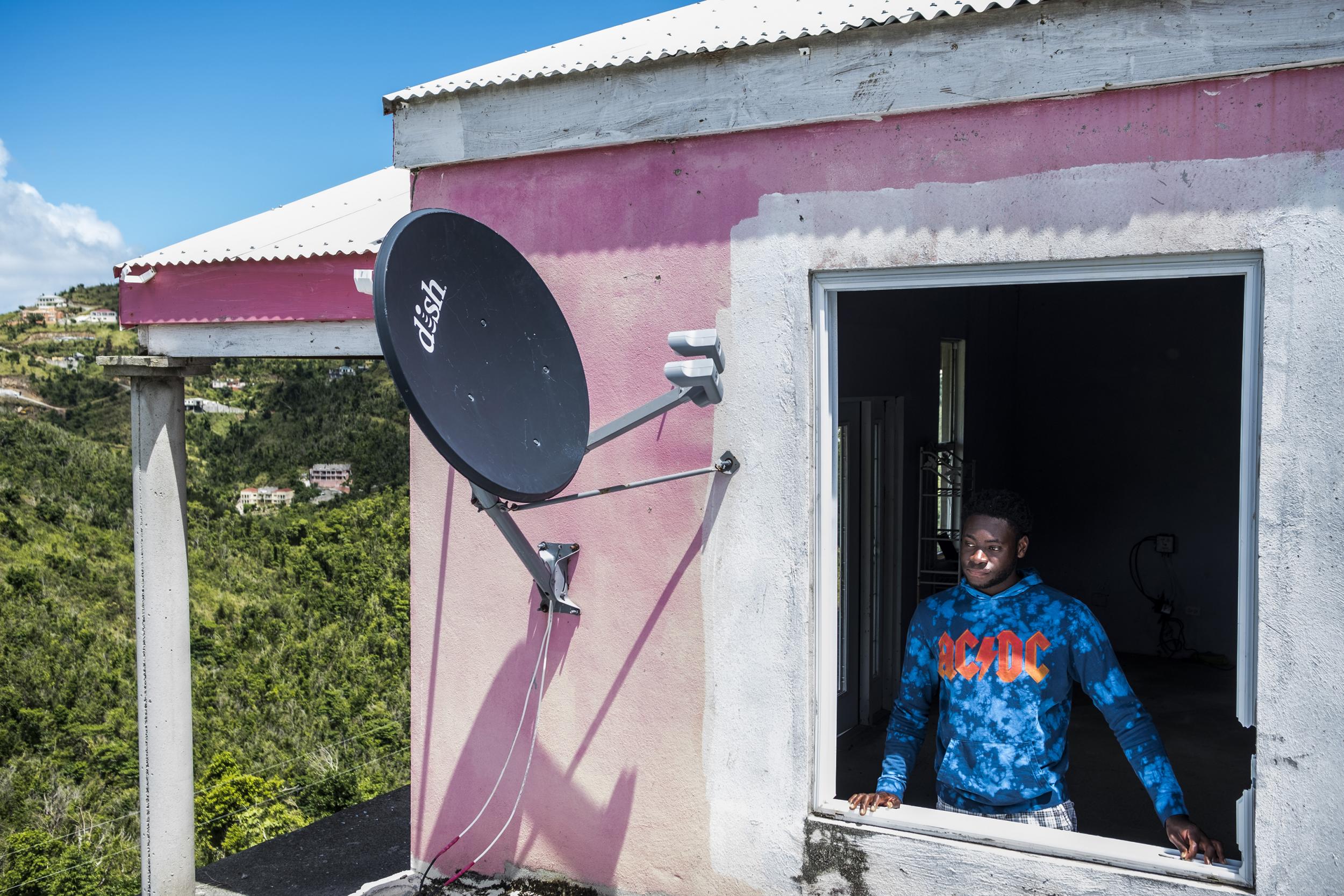 When Irma hit, Rasheed Jennings, 20, sheltered in the bathroom with his mother, father and brother – from there all they could do was watch as Irma shattered their home.
"The first thing that Irma blew out was the windows and then once the wind started to circle through the house it lifted up the doors and the roof, and once that was gone there was no protection and everything just started to float through the doors.
"Even my computer and PlayStation and all my gaming stuff was blown away, I didn't even think to protect them. We could see the damage through the window in the bathroom but there wasn't anything we could do at that point."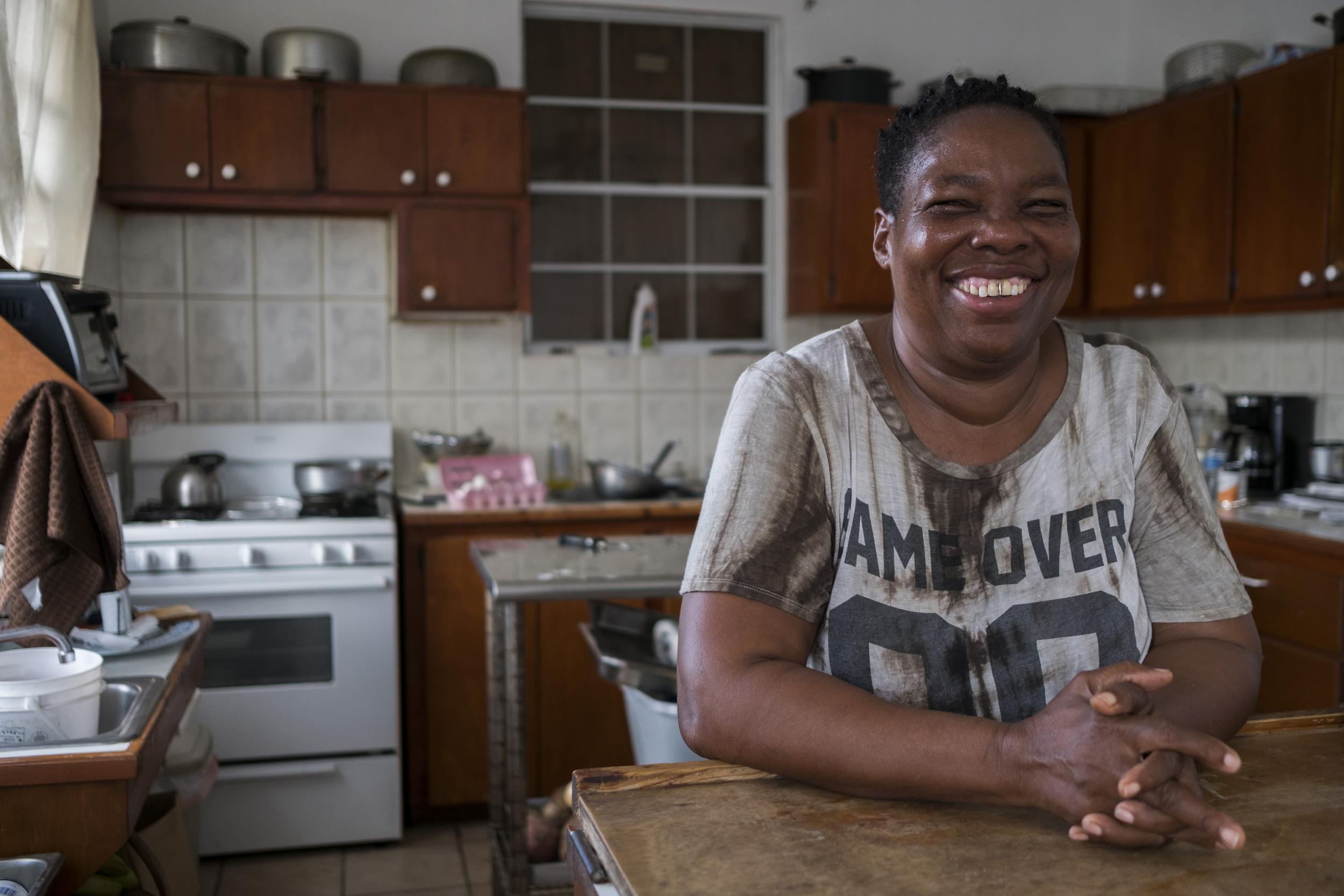 Joan Chimney, 56, runs the popular Sugar and Spice cafe on the island of Jost Van Dyke. She was on holiday in Grenada when the hurricane hit, but returned home to find her business badly damaged.
"Everybody always comes to my restaurant and says they're here for my patties. I make them every morning, wake up and come down to my shop to make them from scratch.
"The hurricane did some damage to my restaurant though – all the windows and doors gone. It's a good thing that the Red Cross was there to give me some help buying them back so I could keep my business going."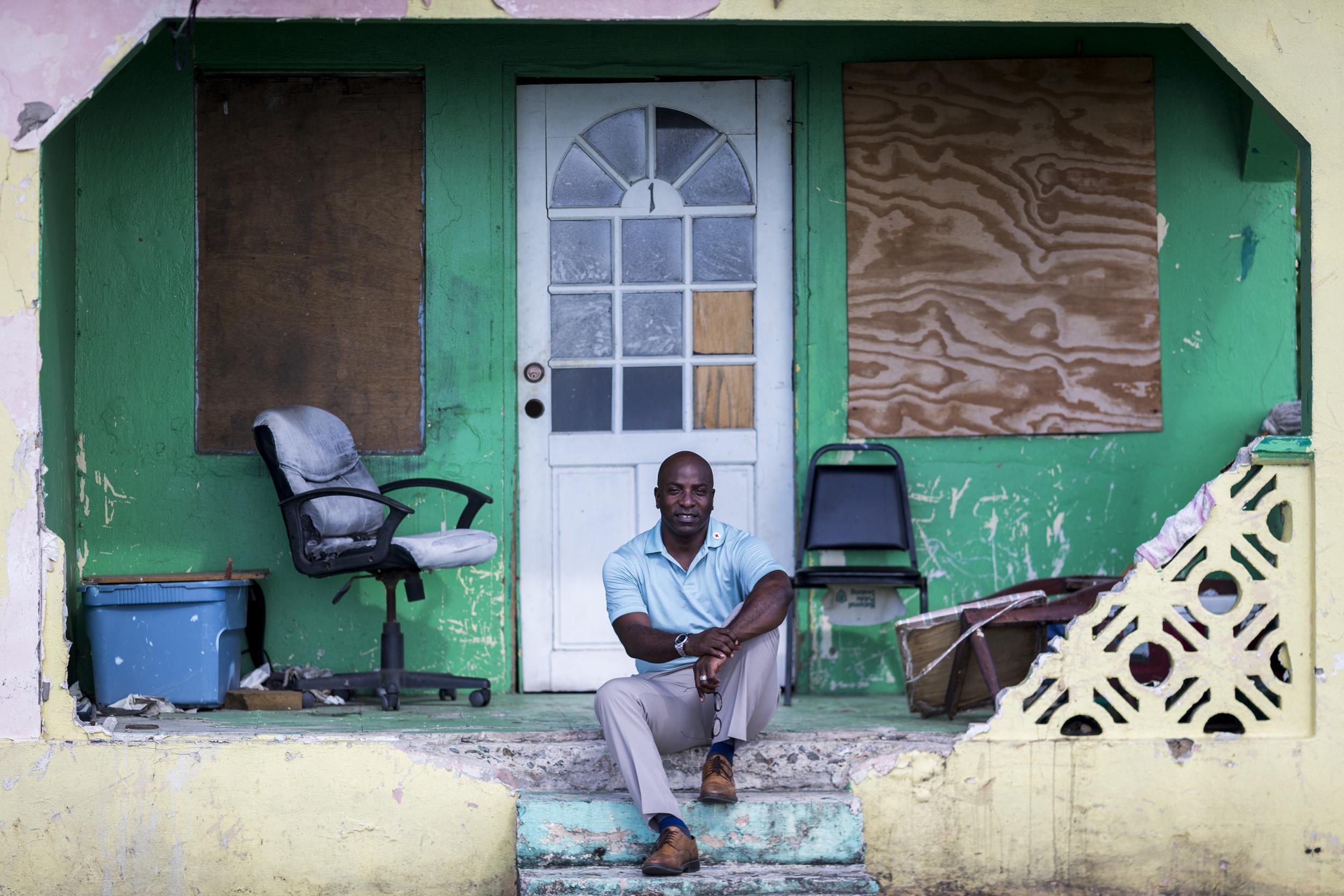 Disaster response officer Cleve Pennyfeather has been working for the British Virgin Islands Red Cross since January this year, working with local communities to help them recover from Irma and prepare for future hurricanes.
The house he grew up in was badly damaged by the hurricane. "This house is very sentimental to me – it has been in my family well over 80 years and it means a lot to us.
"I grew up in this house as a little boy until I left for high school. It belonged to my grandparents, and now belongs to my uncle who is 91. Irma completely destroyed the roof, but thankfully the Red Cross provided him with some cash so that he could buy materials to get it rebuilt."