More than a million people were expected to attended the annual J'Ouvert festival and West Indian Day parade.
People covered in paint and wearing Caribbean flags as capes, skirts and headbands danced on street corners and stoops. Others wore enormous, brightly colored headdresses and intricate jeweled outfits as they weaved through stalls selling jerk chicken and roti.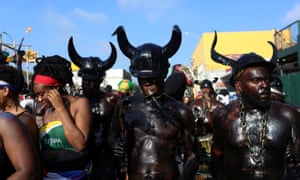 Ebony Smith said she had been coming to the festival for more than 20 years. This year she brought her daughter, Emani, for the first time.
"She experiences so much of the American way of life," said Smith, who wore a Jamaica headband. "I want her to experience the different cultures."
Zxavier Simpson has been attending for more than 15 years. He also felt it was important for children to attend.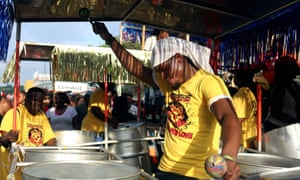 "As a kid," he said, "this was a feast, seeing all the flags coming together, seeing everyone enjoy each other."
Simpson said he planned to broadcast the parade on social media, adding: "It's a privilege to be here."
Events kicked off with the daybreak festival, J'Ouvert, which commemorates the emancipation of Trinidadian slaves and is a warm-up for the West Indian Day parade, which runs from 11am to 6pm.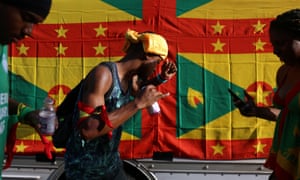 Rasudar Allen had woken up at 4am after finishing his intricate costume, a mishmash of fabric scraps covering a donkey shape, just after midnight.
He said he planned to spend the day clad in the patchwork burrokeet, or donkey-man, costume, a Trinidad and Tobago tradition, because the festival was "very important in keeping the Caribbean and African culture alive".
"The artistic people that makes these costumes are able to display their talents," he said.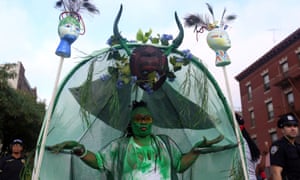 Longtime festival-goers said it was now a much different experience compared to decades ago, when the event attracted a significantly smaller police presence.
In 2017, following a wave of shootings, the city introduced security measures including moving J'Ouvert to 6am instead of 4am and closing the parade route to the public on the previous night.
On Monday, the New York City police department had checkpoints, vehicles and thousands of officers scattered across both parade routes and the streets between.