Repeated warnings about the developing Windrush scandal were made over the course of several years to both the Foreign Office and the Home Office but no action was taken, the Guardian has learned, revealing in new detail the government's persistent failure to respond to the problem.
The issue of older Caribbean-born residents being wrongly classified as illegal immigrants was raised formally in 2016 by Caribbean foreign ministers with the then foreign secretary Philip Hammond during the biannual UK-Caribbean forum held that year in Freeport, the Bahamas. The high commissioner to one affected Caribbean country said officials alerted the Foreign Office to the problem at least half a dozen times from as early as 2013 onwards, to no avail.
Meanwhile the government has admitted in a response to a parliamentary question that it took no action in response to a detailed 2014 warning, in a research paper about the looming problem.
Eight months after the Guardian first reported that the Home Office had wrongly detained Paulette Wilson, a 61-year-old grandmother who had lived in the UK for 50 years, and two-and-a-half months after the resignation of the former home secretary Amber Rudd, many Windrush victims remain near destitute, waiting for compensation, their anger towards the government unabated. Many who were deported or refused re-entry into the UK remain stranded in the Caribbean, still waiting to hear from officials about whether they will be given a chance to come back.
The prime minister has apologised repeatedly for the fallout from policies she introduced as home secretary. Three separate internal reviews have been commissioned into Windrush-related errors, a Windrush taskforce has been set up to fast-track applications for documents for those affected and a compensation scheme is being established.
On the surface, there has been a sea change in government immigration policy. The new home secretary, Sajid Javid, has promised a "fairer, more compassionate immigration system", admitted that something went "massively" wrong in the Home Office, and conceded that the treatment of those affected by the scandal was not "personal enough and not sympathetic enough".
Elements of the controversial hostile immigration environment have been suspended until better safeguards are put in place, and the entire policy has been rebranded as "compliant" rather than hostile.
But the anger remains and there is growing impatience among victims that they are still waiting for financial assistance. "I still feel like I am being violated," said Hubert Howard, 61, who arrived in the UK from Jamaica when he was three and has never lived anywhere else. He was told he was an illegal immigrant and sacked from his job in 2012; he was also told he was not eligible for benefits, and consequently went around £20,000 into debt, and as a result has been blacklisted by credit agencies and is unable to open a bank account.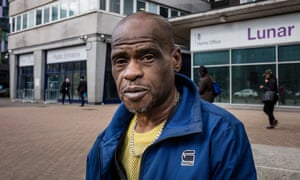 "I can't function day to day. It means I can't do anything – make payments, get a mobile phone contract. My friends are helping me. I don't want to hear that the government is going to do this or that or the other, four years down the line. I need compensation now," he said.
A few victims are understood to have been paid some compensation by the Home Office, but asked to sign non-disclosure agreements, to the concern of others who are still waiting for assistance.
Judy Griffiths, 63, who arrived in Britain from Barbados at the age of nine, and who was told she was an illegal immigrant in 2015, and prevented from working, would like the government to get in touch urgently with her local authority, Islington in north London, and request that they cancel over £7,000 of rent arrears she accrued during the period she was prevented from working.
"I'm trying to get over the anger. It's not healthy to be angry all the time," she began, but was unable to control her frustration as she recounted the frequent calls she is still getting from rent recovery officers, warning that she faces eviction unless she finds the money. "I'd been paying rent on time for 31 years until this happened. I'm doing the best I can in a very hard situation. The government still hasn't understood the effect this has had on people's lives."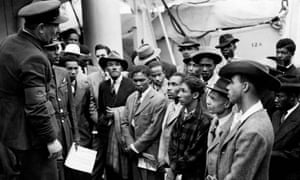 The scale of the problem continues to grow. On Tuesday the Labour MP David Lammy helped launch the Movement for Justice campaign in parliament, calling for the government's Windrush scheme to be extended to the descendants of Caribbean-born British citizens who are currently excluded from support. Politicians heard from women who had spent months in Yarl's Wood immigration detention centre.
New evidence that this was a disaster that could have been averted if warnings had been heeded will do little to soothe the simmering sense of betrayal among victims.
Information has emerged that Caribbean delegations had tried unsuccessfully to get the Foreign Office to take action on the issue of retirement-age, long-term UK residents being wrongly detained and deported, and being refused access to services. Kevin Isaac, Saint Kitts and Nevis high commissioner to the UK, said he and colleagues had repeatedly attempted to get Foreign Office staff to engage with their concerns, but were told nothing could be done unless they passed over names of people who had been affected.
Although many individuals were calling their high commissions to ask for advice, most were afraid to allow their details to be handed on to the UK government.
"People did not want to come forward because there was a fear that if their status was deemed irregular, perhaps they could be deported, so people opted to hide in the shadows of uncertainty," he said. "We were caught in a catch 22 situation. The Foreign Office said they needed specific cases; yet individuals were just too afraid that if they came forward they could find themselves being put on a plane and sent off to a country they had not seen in decades."
After the matter was raised by Caribbean foreign ministers with Hammond in 2014, they were told that there was a "commitment to trying to progress the matter," Isaac said. "Very little happened." Caribbean high commissions were also concerned about the introduction of "hostile environment" policies in 2014, at the same time as the removal of legal aid. "We were raising concerns about the hostile environment; 2014 became a seminal year," he said.
Caribbean diplomats were concerned that the government was extending "the long arm of the law to the point whereby landlords and banks became the agents of government policy to deal with a group of people mischaracterised as illegal aliens". The concerns they raised gained "little traction", he said.
A Foreign and Commonwealth Office spokeswoman confirmed that the warning had been received but was unable to say what action, if any, had been taken as a result.
A long-delayed answer to a parliamentary question put down by the Green party co-leader Caroline Lucas revealed that the government did not act on the recommendations of a critical report, which detailed the problems being experienced by older, long-term UK residents who had no documents.
The Chasing Status report published in October 2014, when Theresa May was home secretary, called for the government to set up a special unit to fast-track cases of people who had been living in the UK before 1973 (and who therefore had an automatic right to citizenship), and recommended that they should be allowed to work, access the NHS and claim benefits.
"No specific action was taken as a result of this report," Caroline Nokes, the minister of state for immigration, revealed in an answer to Lucas's question. A special unit has now been set up, as part of the Windrush taskforce. "We now have yet more clear-cut evidence that Theresa May as home secretary chose to explicitly ignore recommendations that would have prevented much of the damage of the Windrush scandal from happening," Lucas said.
"Responsibility for the Windrush scandal, and the countless lives it has ruined, falls squarely on the shoulders of our prime minister – and she must be held to account for this act of great betrayal."
There have been about 8,000 referrals to the Windrush taskforce and right-to-residency documents have been issued to over 2,000 people. The wide range of the issues being highlighted by victims underlines the huge challenge that remains for the government before they can draw a line under the scandal.
The government has promised to set out details of how it will undertake the Windrush "Lessons Learned" review before parliament breaks for summer. Sir Alex Allan, the prime minister's adviser on ministerial standards, has already completed an inquiry into the civil service support (or lack of support) given to the former home secretary in the days leading up to her resignation, triggered by a realisation that she had misled the home affairs select committee on whether or not the government had deportation targets; the findings have not been made public.
Meanwhile 150 members of Home Office staff have been redeployed to work on the historical review into the numbers of Windrush people the government wrongly detained and deported as a result of its policies. There is growing unease from politicians on the home affairs select committee that there is still almost no detail about the circumstances in which an estimated 63 people were wrongly deported, and no information at all about how many people were mistakenly detained.
Despite the extensive attempts by the government to put a lid on the saga, there is much to suggest that the fallout from Theresa May's hostile environment policies is unlikely to die down imminently.
Trevor Johnson, 57, a widow who struggled to feed his two teenage daughters when he was classified as an illegal immigrant (after 45 years in London), and who was told he faced deportation, believes older people were seen as easy targets, because they were largely voiceless and unlikely to resist deportation.
"I feel even more angry now the full extent of it has come out. They were picking on us, old people," he said. "I'm still worried; I'm still scared – that's what it's done to me – I have turned into someone who is fretting all the time. I loved living here, but I've lost faith in this country."