This past mid-winter in New York was a bleak one: blustery and cold, daily darkened by the news from Washington. But from October to February, if you were looking to come in from the cold — seeking some place to warm yourself, body and soul — you could make your way to the ground floor of the Whitney Museum of American Art. There, the young painter Toyin Ojih Odutola offered the weary an alternative to American dystopia — African utopia. Specifically, a Nigerian beau mondeof aristocrats and ambassadors, of louche Afrotrash princelings (on honeymoon with each other, pictured in front of Instagram-worthy Venetian wallpaper), of black barons and baronesses surveying their country estates, and glamorous African It-girls posed in their finest threads. My favourite was First Night at Boarding School. An adorable Little Lord Fauntleroy — about 10 years old and fighting off sleep — lay between unfamiliar bedcovers, his elegant Afro set at a fretful angle upon his pillow. He looked pampered but anxious: you could see he missed the silk sheets back home, his family, the well-stocked playroom, that kind maid who brings the milk. These were the extent of his worries. If only every black boy in America had worries like these!
"If only" is the sign under which Ojih Odutola works. If only slavery had never happened. If only African families had never been broken and serially traumatised. If only Africa's wealth had never dispersed to the four corners of the globe nor her tribal differentiations been lost in the wanderings of her diaspora. For though the name of the show was To Wander Determined, Ojih Odutola's people do no wandering through the wilderness because they have no need to — the promised land was never lost. Instead, the past 600 years of dispersion and displacement have been magically replaced by consolidation: of wealth, of heritage, of privilege itself.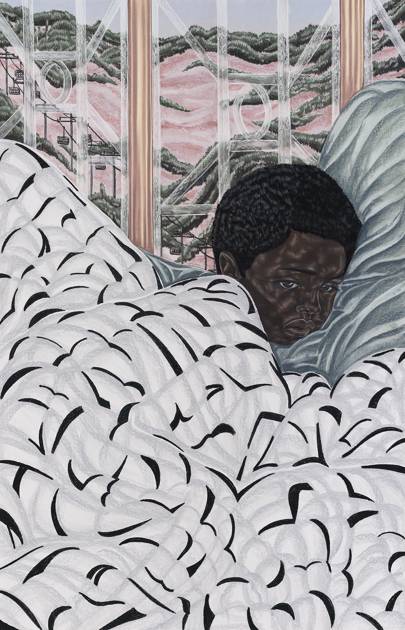 A plaque on the wall grandly informs us that these paintings come from the "private collections" of two fictional Nigerian aristocratic clans — the UmuEze Amara and the Obafemi — who are connected by the marriage of their eldest sons (to each other). Standing amid these life-size fictional portraits is like entering a Nigerian novel of high society written by an African Edith Wharton, and in its richly detailed fantasy recalls other recent, triumphant examples of the black imaginary: the smash-hit movie Black Panther, say, in which Wakanda, a nation state of great wealth and advanced technology, lies hidden within the African continent; or Kehinde Wiley's regal depictions of black youth; or Donald Glover's Emmy-laden TV experiment Atlanta. Call it the Afroternative! Certainly, there has been a departure from the social realism once expected of black artists, and a move towards the liberty of imagining other possible worlds, a radical and essential freedom in these times. In fact, the longer I spent with the UmuEze Amara and the Obafemi, the more it seemed possible that their world was reality and outside the gallery was where the truly outrageous fiction lived, the one in which a sitting American president just contained every country in Africa within a pitiful scatological expletive.
Ojih Odutola was born in Ife, Nigeria, in 1985, and raised in Alabama. She now resides in New York, where she is a central light in a thrilling new generation of black artists that includes her childhood friend, the Ghanaian-American novelist Yaa Gyasi, the musician and downtown alt-star Dev Hynes (Blood Orange) and the singer and performance artist Solange Knowles (who is, alongside her husband, Alan Ferguson, both an occasional model for Ojih Odutola's portraits and a frequent collector of them). But if the traditional relationship between painter and patron is one of unadorned artisan and uber-glamorous client, Ojih Odutola disrupts all that. Strikingly beautiful and startlingly well dressed, in photos patron and artist seemed clipped from the very world Ojih Odutola paints so beautifully: two aristocratic African sisters, just about ready to tear up the (down)town.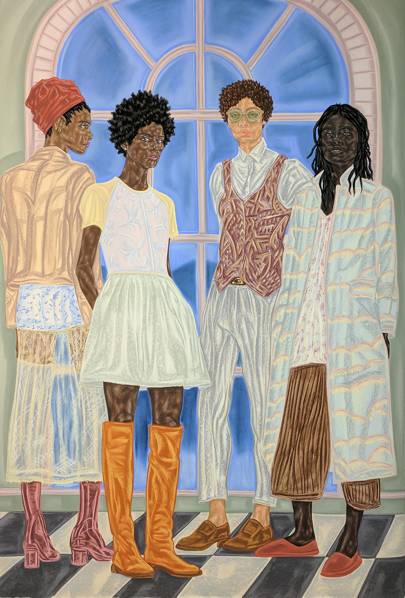 And that's the funny thing about Ojih Odutola: Nigerian high life — as I'm sure she's well aware — is not only an alternative fantasy but a present reality, and I confess that this Caribbean-British viewer's first assumption was that these sumptuous portraits represented real people. Were they members of the kind of "Afropolitan" elite well described by the (equally glamorous) globe-trotting Ghanaian-Nigerian writer Taiye Selasi? Or maybe the children of those oil-rich Nigerian millionaires and billionaires whose comings and goings are faithfully recorded in the Lagos gossip rags? I thought of those lines of Maya Angelou: "Does my sassiness upset you?/ Why are you beset with gloom?/'Cause I walk like I've got oil wells/ Pumping in my living room." Maya was speaking metaphorically but in the New Nigeria, oil really is the source of enormous, if unequally spread, wealth. The same viewer who walks out of Black Panther wondering whether a militaristic and technocratic monarchy is truly an African vision to which we should all aspire, might also ask herself if there are further dreams we can have about an un-stolen and un-colonised Africa that will turn away from the kind of Rich Kids of Instagram fantasies we're sold every day.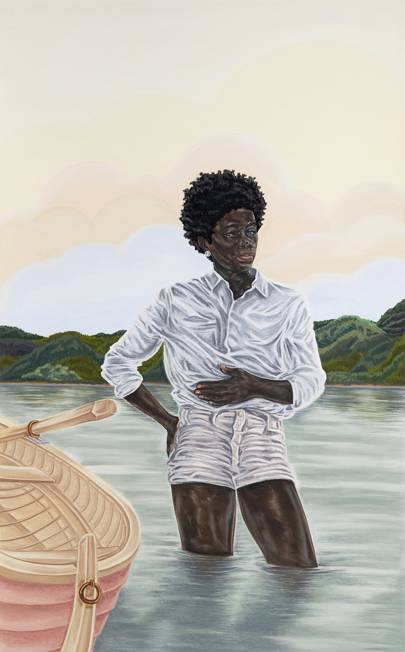 And yet, on the other hand, it's clear that Ojih Odutola is interested in inherited wealth not so much in itself as for what it represents: self-determination. Part of her project is precisely to give to black subjects what those rich Instagram kids so like to display: the luxury of journeying wherever you want to go, and the freedom to indulge concerns that begin and end with the self: "I wanted to show historically oppressed bodies in control not only of themselves but in control of the impetus to travel, of their need to exist in the world and not be in control of anything else but themselves. The only thing I knew could cut to the heart of that was Manifest Destiny [the 19th-century belief that white settlers were "destined" to expand across North America], so there's a lot of Manifest Destiny-like, Hudson River School situations going on in these works."
As Toni Morrison famously defined it, racism, to the black person, is primarily a tool of distraction: it drags us away from the proper pursuit of our own interests, dreams, plans, projects, ideas. In this context, Ojih Odutola's paintings ask a vital question: what would we be like if we had never been distracted? But is a black version of Manifest Destiny a true alternate vision or just the flip side of the same coin? Is hoarded black wealth the only correct response to its white equivalent? You won't get any easy answers from these paintings: just like the strange interiors in which these privileged families live, some of the angles are deliberately absurd and the perspectives impossible; bizarrely shaped bricks hold up dubious windows, and landscapes look like fabric and vice versa. A fantasy doesn't need to make sense. But it can still have power, and there is something deeply exhilarating in contemplating a newly married, gorgeous gay couple, who by their union have brought two grand Nigerian families together in a country which we know, in reality, has recently outlawed the very existence of homosexuality.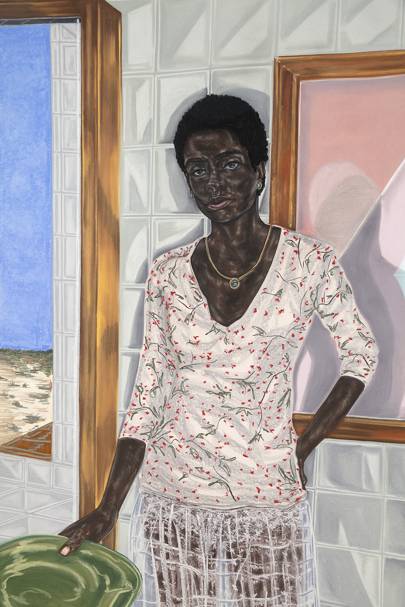 I think Ojih Odutola, who, at only 32, has already passed through several modes and styles — most noticeably from ballpoint pen to chalk and pastel — knows exactly what she is doing and has many more journeys to take us on yet. If anyone can paint an alternative to the alternative, it's her. What will that look like? It happened that the day after I visited Ojih Odutola's paintings was the day that the American novelist Ursula K Le Guin — that master of alternative realities — died, and for all of us wondering what force to place against the forces presently working against us (more of the same? Or something entirely different?), Le Guin, in one of her final radio interviews, offered some advice: "My guess is that the kind of thinking we are, at last, beginning to do about how to change the goals of human domination and unlimited growth to those of human adaptability and long-term survival, is a shift from yang to yin, and so involves acceptance of impermanence and imperfection, a patience with uncertainty and the makeshift, a friendship with water, darkness and the earth."
Is the choice really between wealthy conquerors and dispossessed victims, or can we imagine an Afroternative to both? Maybe it's in Ojih Odutola's yin-like depictions of black skin — multi-layered, mobile, full of depth and character, earthy, imperfect, but beautiful — that the most exciting possibilities lie. Look closely and you'll see no flat plane of colour but instead rivers and roads, paths and arrows, seeming to trace the many possible future directions of one of the most exciting young artists working today.