A report by Kieran Yates for London's Guardian.
I'm the kinda guy that wants to get physical / Run up in your house and take all your Sky Digital." Big Narstie collapses into hysterics after I ask him to recite some lyrics he wrote in his youth. He pauses. "Yeah, OK, it's fair to say I was crap. But, look, Sky Digital was just what I cared about at the time."
We are, at his request, eating in his favourite Brixton chicken shop, Chicken World. Over his order of two chicken burgers, a quarter chicken, chips and a strawberry Mirinda – and dressed comfortably in a soft flat cap, T-shirt emblazoned with the word Pain, tracksuit bottoms and socks and sliders – he gestures to where his early music and life took place.
"I was in Lane Thug Crew … which was people on Acre Lane [in Brixton]," he explains of his early foray into MCing. "Then there was NAP – New Age Professionals – and N Double A. I was made on pirate radio. I was the hottest thing in the ends! And now …"
He trails off, but the "now" moment is what 32-year-old Big Narstie, or Tyrone Lindo, might call making it. He is promoting his album, BDL Bipolar, appearing on prime-time TV shows and gearing up to host his own show on Channel 4 later in the year. (He can't talk about it yet. All he does say, proudly, is that it will be "the blackest thing on TV".)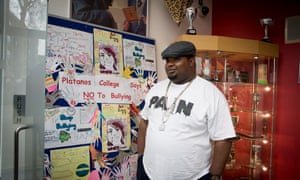 A refusal to self-censor has catapulted Narstie into the mainstream: his charm, likability and humour – exhibited on his agony uncle YouTube series Uncle Pain – has helped establish him as a personality. He broke through with his debut EP, Pain, in 2012 and won best grime act at that year's Urban Music awards. And he has since tasted mainstream musical success, featuring on Craig David's When the Bassline Drops, which reached the Top 10 in 2015. He also counts Ed Sheeran, who delivers a guest rap on his new album, as a close friend and godfather to his daughter.
His mum is sitting across from us and listing his favourite meals (oxtail; mac and cheese) in a warm Jamaican lilt. She watches as Narstie poses for pictures with two Polish builders and some local teenagers who have spotted him, and tells me that it wasn't always this way.
"I had to take him back to Jamaica [his family are from Clarendon] growing up," she says. "I had to remind him that he was not in a 'ghetto' when he said it. These kids, they don't know ghetto. It had an impact. When he was here, on the corner protecting his 'ends', I said: what ends? Do you pay poll tax? I just shut it down."
The Brixton of the poll tax riots, if the newly gentrified world of artisanal cheese and members' clubs is any indication, is just another bad moment in the area's history of knife crime and fractious race relations. But for Narstie, the Brixton of his childhood, which he pays homage to in his 2014 track What's the Story Brixton Glory, still exists. Well, kind of. "Back then, you could get a patty and cocoa bread, apple crumble and custard, for £2," he says between bites. "Imagine that now."
To make his point about a community that remains intact, he visits his local barber, Bubbla, who has cut his hair for more than 20 years, for a shape-up. Today, deep in the spiritual home of the Caribbean diaspora in London, everyone is discussing the biggest story of the year: the Windrush scandal. "I think it's very disgusting, man," says Narstie. "God forbid my grandma, who turns 75 this week, is affected. We've spent 20 to 30 years in England living a life and they've been thrown away like tissue paper." Bubbla is tutting. "It's disgusting. But it has been happening for years, Tyrone." Narstie nods back sagely: this is a community where the story is news, but not new.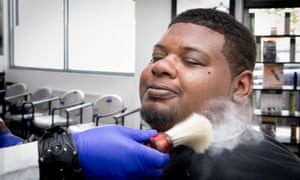 On the window, there's a homemade sign with a red line striking out images of a gun and a knife. The conversation is drawn to it, as, according to Bubbla, it's the other topic that has repeatedly been aired in his chair this week. "What support do the youngers have?" asks Narstie, tilting his head. When I ask if he has ever seen local MP, Chuka Umunna, around, he lets out a booming, genuine laugh. "Oh, get the fuck out of here! When you going to see them man here?"
As we settle the bill, Bubbla makes a joke that barbers whose clients have enjoyed success in grime, rap and beyond are often making: "Well, it's usually a tenner … but for Narstie? Let's say £150!" and the room dissolves into laughter. As his PR leans over to pay the £10, the corner of Narstie's mouth curls with mischief. "Jeez, you know I've made it when a white woman pays for my hair!"
His recent TV appearances on Big Fat Quiz of the Year, or doing the weather on Good Morning Britain ("Highlands: a bag of snow") helped with his mainstream visibility, but they can, at times, feel like uncomfortable caricatures. Is Narstie the butt of the joke for Piers Morgan or is the last laugh his, capitalising on the airtime to leverage his own show?
"I'm not a token black guy," he shrugs. "I'm making them hear people like me." He points to his heavy chain with a crest reading BDL standing for Bass Defence League, his music collective – but the acronym is also, he says, a reaction to far-right groups such as the EDL. "I'm the antibiotics to these flippin' fascists … rightwing, simple-minded people," he says.
You get the sense that he is just working it all out, and that's what makes him fascinating for middle-class white journalists looking for a taste of young, black British male charisma without having to engage with the reality of their lived experiences. For Narstie, it's about gaining control of that, but he's a media-training nightmare – he sometimes stumbles over his points and sounds flippant when discussing incarceration levels for black Britons ("We have to man up and take some accountability") and constantly changes his mind about sending his daughter to private school. His point, ultimately, is that black identity is nuanced.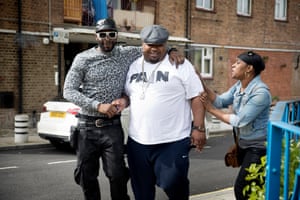 As we leave the barber's, Narstie tells me about how he is an unlikely role model – even for himself, who grew up adoring footballers Ian Wright and John Barnes.
Another name keeps cropping up throughout the day: his old pastor-cum-youth leader, Pastor Chris, a tall, bespectacled man dressed in sensible shoes and a checked shirt tucked into his trousers, who was "the first meaningful black man in my life". We meet him at Brixton Baptist church, where – thanks to the youth club – a young Narstie would perform on his first decks, create his MC name and become part of a community. It's worth pointing out, though, that the club and many other similar ones no longer exist.
"We had 40 or 50 boys and girls upstairs rapping about things you should not be hearing in the house of the lord," laughs Pastor Chris. "It was rude, crude, loud and bad … but it was a therapy. Tyrone was looking for a father figure, for direction, as were many of the boys." (Narstie's mother brought him up alone.) The air is thick with nostalgia and emotion as they recount the recent murder of one of the students, and Narstie changes tack. "Tell them the story about when we once spiked your cheese sandwich with weed!" he bellows. The Narstie of boisterous bass-drops returns.
Walking back to the car, Narstie is reflective and takes a long pull of a joint. "You're only as good as your options and your surroundings. I didn't know about mortgages and life insurance. Learning that, I saw a different way of doing things, but what if no one took the time out to tell me? Even with Pastor Chris it was, like: what's so special about me that you would take time out to help me?"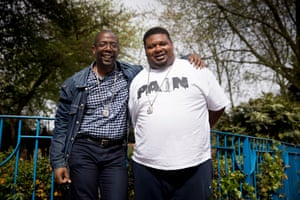 Conversation turns back to his album BDL Bipolar, which represents the humour often missed by newcomers to grime. It's also a nod to his London: one of diverse communities of colour and working-class identities. Tracks are produced by Panjabi MC, skits come from Chabuddy G (the star of the Bafta-winning comedy People Just Do Nothing), while Narstie also establishes himself as a more rounded artist. Catchy, wobble-bass party songs such as Woah are highlights, but there are tender moments such as Blood, about his daughter. ("She's a miracle baby, her mum was in a coma for three days. She's beautiful.")
"It's just … bipolar," he says of the album. "There are some songs that will make you want to fucking smash the house up and there's some songs where you just sit in your underpants and think of all the depressing times in your life and cry."
Before I can interrogate the album title more, he laughs about some of the "depressing shit" that we've discussed. Narstie's soft eyes crinkle and he shouts from the corner of his mouth: "People just expect me to be funny, innit … oops!"
BDL Bipolar is out in July; the single Woah is out now, both on Dice Recordings