Latin American Paintings specialist Marysol Nieves appraises a collection of 38 posters from 1965 to 1973 by Cuba's most innovative graphic artists — offered in Christie's Latin American Art Online sale, 18-30 May
During a period of profound and rapid social and political changes, the Cuban poster boldly documented and embodied the spirit and ideals of the Cuban revolution. 'Thanks to those daring, inspired artists, an important part of the visual memory of Cubans is indelibly imprinted in their bold graphic designs,' writes Leonardo Padura Fuentes in Mira Cuba: The Cuban Poster Art from 1959 (2014). 'It had a dignity and an aesthetic standing that turned the utilitarian poster into a milestone of Cuban cultural history in the second half of the twentieth century.'
Offered as a single lot in our Latin American Art Online  sale (18-30 May), the 38 posters — or carteles —  in this collection were created between 1965 and 1973 by a handful of the genre's most talented and innovative graphic artists, mostly to promote films, documentaries and other cinematographic events.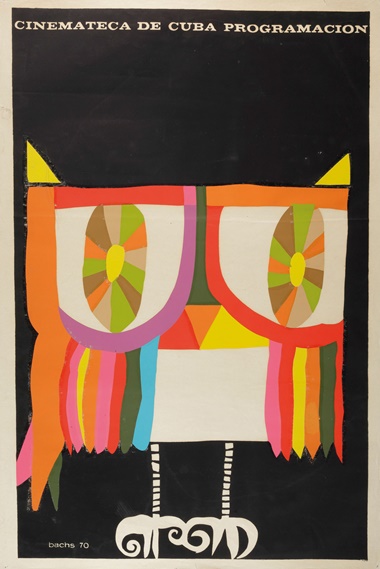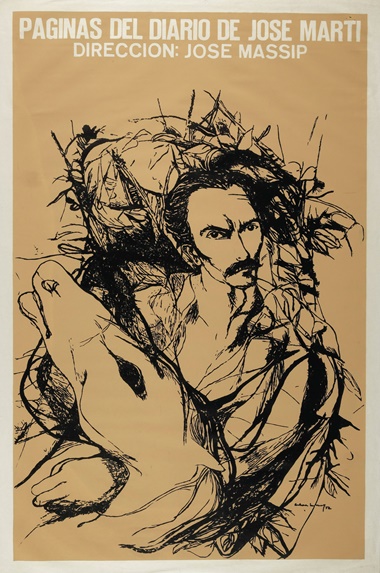 Sponsored largely by the Instituto Cubano del Arte y la Industria Cinematográfica (ICAIC), the posters span subjects as diverse as education, culture and reproductive health, political marches and other overtly political or propagandist themes consistent with the objectives of the regime. During this 'Golden Age of the Cuban Film Poster', Cuban graphic artists pushed the boundaries of 20th-century design, despite working under increasingly stringent financial and political constraints.
'Antonio Reboiro's LBJ  poster (above) is a classic example of how Cuban graphic artists employed such Warholian and Pop Art devices as serialisation and repetition, as they strove to convey ideas about the power of mass media culture and the global preponderance of American culture,' says Latin American Art specialist Marysol Nieves. 'The repetition of LBJ's face framed by a medieval knight's helmet is intended as a satirical element, perhaps as reference to the American president's involvement in conflicts at home as well as abroad.'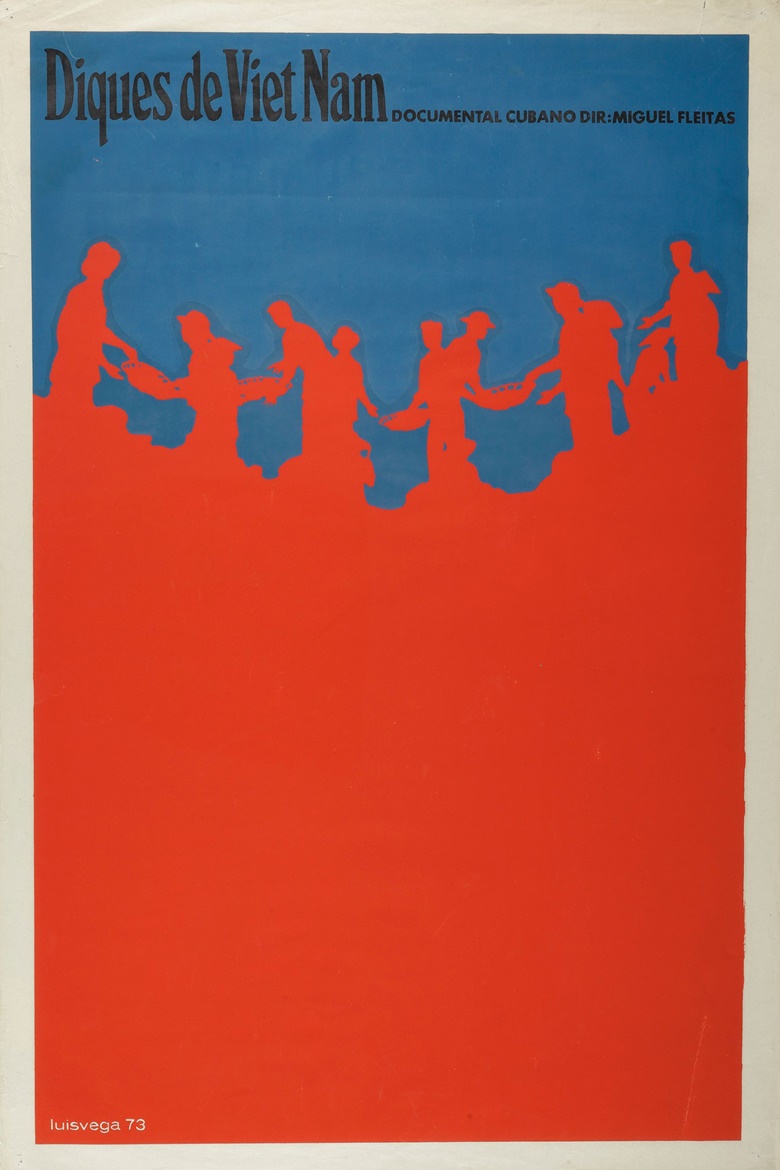 The graphic artists working in Cuba during this period elevated a medium commonly associated with advertising and marketing to a true art form. Executed in a handful of print shops throughout Havana that specialised in the silkscreen process, the posters were made using flat colours applied in layers — essentially a colour separation printing process, of which Vega de Castro's Diques de Viet Nam  (above) is a beautiful example.
'In this poster, the artist applies two primary colours, blue and red, to dramatically express the essence of the film's subject,' Nieves explains. This reductionist approach is further reflected in the silhouetted figures of the farm workers labouring in a dense field of red — 'a potent symbol of violence and bloodshed', adds the specialist.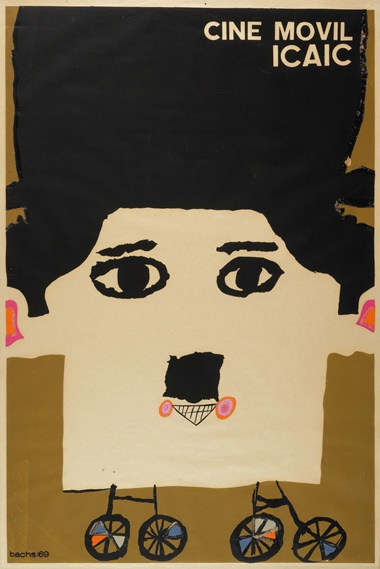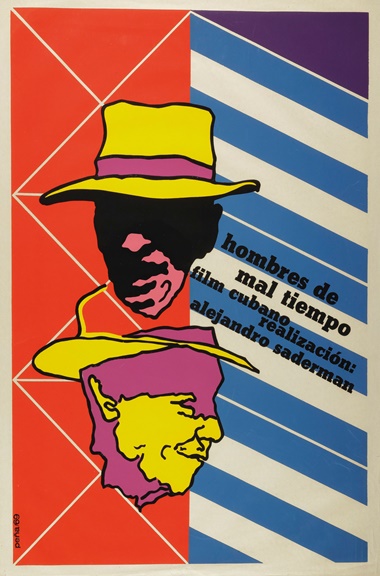 Artists such as Servando Cabrera Moreno (who was also a distinguished painter), Eduardo Muñoz Bachs, Ñiko (Antonio Pérez González), René Azcuy, Antonio Fernández Reboira and others skilfully employed the silkscreen process while embracing a more sophisticated formal language that drew upon aspects of pop, abstraction, figuration and Art Nouveau. These were combined with the use of bright, flat primary colours, bold typography and schematic forms to effectively convey a concise message to a broad audience.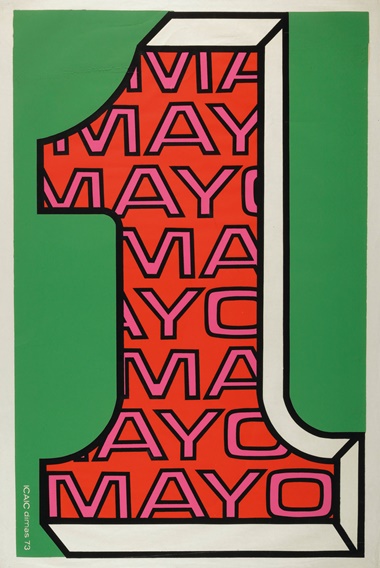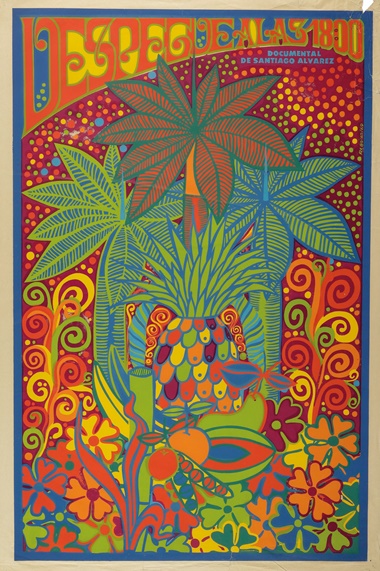 The interest in modern and contemporary Cuban art has widened in recent years as artists have gained greater international visibility, while renewed diplomatic relations between the US and Cuba have further sparked excitement about this growing market.
Collectors have long sought works by members of the 1940s Cuban vanguard (Wifredo Lam, Mario Carreño, Amelia Peláez, etc.) and more recently the abstract and concretist generation of the 1950s and 60s (Loló Soldevilla, Sandú Darié, Carmen Herrera, etc.), as well as contemporary luminaries such as Tomás Sánchez, José Bedia, and Los Carpinteros. The Cuban poster, however, represents a burgeoning category for both new and seasoned collectors interested in the graphic arts, 20th-century design, film memorabilia and contemporary Cuban art.