As the first independent Caribbean state – and the only nation established on the back of a successful slave revolt – Haiti holds a particular and special place in world history. Unfortunately, freedom came at a steep price. The island nation was forced to pay reparations to France, a debt which left their economy largely crippled and led to a spiraling of despotic regimes and military juntas. As a result, Haitian history is one defined by turmoil and upheaval.
In recent years, Haiti has been devastated by a rolling series of natural disasters – from a brutal 2010 earthquake to the recent destruction of Hurricanes Matthew and Irma. The results on the already impoverished nation have been catastrophic. Amidst, and perhaps in spite of, the country's tumultuous past and volatile present, a vibrant Haitian culture has long flourished. Haiti is home to a people tempered by tragedy and steeped in tradition. Its literary culture is built on an eclectic mix of African and European-tinged mythology, and folklore presented through the lens of Haitian Vodou (commonly known as voodoo). The result is a powerful and engaging literary tapestry. The books below – many by Haitian authors – provide an opening view into the fascinating world of Haitian literature.



Edwidge Danticat and René Depestre

Originally published in 1988 by one of Haiti's seminal authors, Hadriana in All My Dreams is an erotic fever dream of a novel centering on a young man's lust for a beautiful woman named Hadriana. Beyond its winding narrative, Hadriana is a brilliant examination of Haitian culture.




Edwidge Danticat

In this award-winning memoir, Edwidge Danticat – one of contemporary Haitian literature's most prominent voices – recounts her own experience as an immigrant to the US. At the age of four, Danticat was placed in the care of her Uncle Joseph when her mother and father immigrated to America. At age twelve, she joined her parents in New York City. Brother, I'm Dying recounts her struggles adjusting to her new home amidst the fears of deteriorating political landscape in her home country.




Jacques Roumain

Jacques Roumain was a pivotal figure in the development of Haitian literature in the early twentieth century and Masters of Dew is one of his most beloved novels. It centers on a peasant family in rural Haiti whose son returns from working in Cuba to reunite his village. It is equal parts fable and an examination of everyday life in rural Haiti.

A Haitian Triptych

Marie Vieux-Chauvet

Marie Vieux-Chauvet was an iconic voice in Haitian literature during the dictatorship of Francoise "Papa Doc" Duvalier. She was kept under heavy surveillance during this period, and the publication of Love, Anger, Madness – which was seen as a strong rebuke of Duvalier – actually led to fear for her family's safety in Haiti.



Roxane Gay

This debut novel from Roxane Gay centers on a woman named Mireille Duval Jameson. She is the daughter of one of Haiti's richest men and finds herself kidnapped in broad daylight outside her father's Port au Prince estate.  What follows is a powerful examination of privilege set against crushing poverty.

Elsie Augustave

Elsie Ausgrave's debut novel is a powerful examination of loss, privilege, and cultural identity. The story follows Iris, a woman who tells her remarkable story from beyond the grave. Adopted by an American family as a child, Iris grew up torn between worlds – that of her new American family and her roots in Haiti.




Yanick Lahens

Aunt Resia and the Spirits is a kaleidoscopic collection of short fiction by one of Haiti's most renowned writers. In stories tinged with equal parts compassion and despair, Lahens explores the day-to-day experiences and the triumphs and tragedies of Haiti and its people.

Edwidge Danticat

This far-reaching anthology edited by Edwidge Danticat features a broad collection of tales from the Haitian diaspora. While the stories deal largely with criminals and crimes – as one would expect from the Noir title – they nonetheless give sharp insight into Haitian culture.



The Quest of Dr. Paul Farmer, a Man Who Would Cure the World

Tracy Kidder

Mountains Beyond Mountains tells the story of Paul Farmer, a infectious-disease specialist renowned for his humanitarian efforts in developing countries around the world and most notably in Haiti. Pulitzer Prize winner Tracy Kidder charts Farmer's efforts in this captivating book.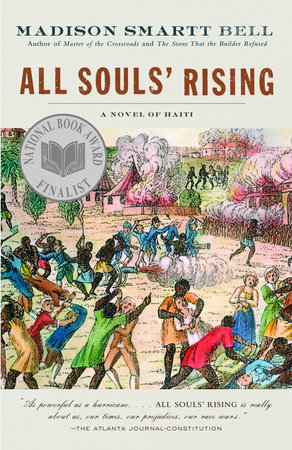 A Novel of Haiti (1)
Madison Smartt Bell
This book, Master of the Crossroads, and The Stone that the Builder Refused, comprise Madison Smartt Bell's renowned Haitian Trilogy. In an epic piece of historical fiction writing, Bell explores the beginnings and eventual fallout of Haitian Revolution which saw Haitian slaves rise up to overthrow French colonial role and establish Haiti as an independent state. It was an event that had tremendous ripple effects throughout the Americas and a defining moment in Haitian history.