A report by Molly Gottschalk for Artsy.
More often than not, Western images of Colombia tell the story of a country ravaged by war, violence, and drug trafficking—from the tremendously popular Netflix drama Narcos, chronicling the cocaine trade and the rise of the Medellín Cartel, to news stories documenting a cycle of bloodshed with many civilian casualties. But despite recently signed—and strengthened—peace accords, this darker narrative hasn't changed.
Photographer Matthew James O'Brien is seeking to challenge these perceptions. From 2003 to 2013, the San Francisco-based photographer traveled across Colombia, Polaroid camera in hand, to capture the nation's humanity and the lesser-known beauty of its landscape. Next week, his soulful depictions of the South American country—from the remote village of Acandi to the Caribbean island of San Andrés—debut in New York at the Consulate General of Colombia.
"When I first went," O'Brien tells me, "people would say, you're going to Colombia?" At the time, the country was in the throes of a half-century-long civil war and widely considered to be unsafe for foreigners because of kidnappings. But O'Brien stayed the course. Though he'd initially made the journey to photograph the country's national beauty pageant, he was struck by the warmth of the locals and became inspired to portray their stories—and an alternative vision of Colombia.
"All of the international press seems to focus on the problems," he says. O'Brien concedes that these problems are real and remain relevant to this day; even with the November 2016 peace accord, he says, in which the largest rebel group FARC (Revolutionary Armed Forces of Colombia) agreed to surrender their guns, a new era of violence is emerging. But that's not where his interest lies.
In contrast, O'Brien has captured Colombia's day-to-day existence. "It doesn't mean to say that all of this other horrible stuff isn't happening; but in the midst of that horrible stuff, there are these sweet wonderful people." And, as his Polaroids reveal, there's a whole lot of beauty.
Over the course of a decade, O'Brien made frequent trips to Colombia—first for an exhibition of his photographs, and later to teach photography as part of a Fulbright fellowship—each time packing a Polaroid 690 camera he'd held onto since the '90s. And every chance he got, he'd travel.
Through his analog lens, faces and landscapes across Colombia are rendered in impressionistic, sun-bleached exposures. We see barefoot workers tugging carrots from the soil in the fields of Carmen de Viboral—a small village known for its pottery—and a little girl dressed in her Sunday best on the tiny Caribbean island of San Andrés.
Outsiders might likely be confused by the title of the series, "No Dar Papaya." The uniquely Colombian phrase roughly translates as "don't give a papaya," and means "don't be an easy target; don't show any vulnerabilities; don't pull out your cell phone in this area because they're going to rob you," O'Brien explains.
During his Fulbright fellowship, O'Brien was often restricted from traveling to certain areas for safety reasons ("they didn't want a Fulbright fellow to be kidnapped or killed," he says), but as soon those constraints were lifted at the program's end, off he went.
That meant traveling to Colombia's Choco province in 2011, a tropical region home to right-wing paramilitaries and left-wing guerilla groups who've taken civilian lives. Despite the violent history of this place, it was the radiant morning light and a cluster of two indigenous families gathered by the mouth of a river that caught O'Brien's attention.
When the Polaroid popped out of the camera, he says, one of the fathers asked to keep a few pictures. The defunct Polaroid film was a scarcity and there was nowhere to make a reproduction in the middle of the jungle (as he'd typically do) but, as O'Brien recalls, "how could I say no to this guy?"
After handing over a few pictures he'd delicately wrapped in notebook paper, he says, he watched the two families walk off, single file, along a path along the river and into the forest. "I like to think that they still have those photos," he says, "and they mean something to them."
This particular incident is not unique: Generally, O'Brien considers his portrait-making to be a collaborative process. "Photography gives you a reason to have these interesting, meaningful experiences," he says. "You're learning from them, but ideally, it's a mutual beneficial exchange."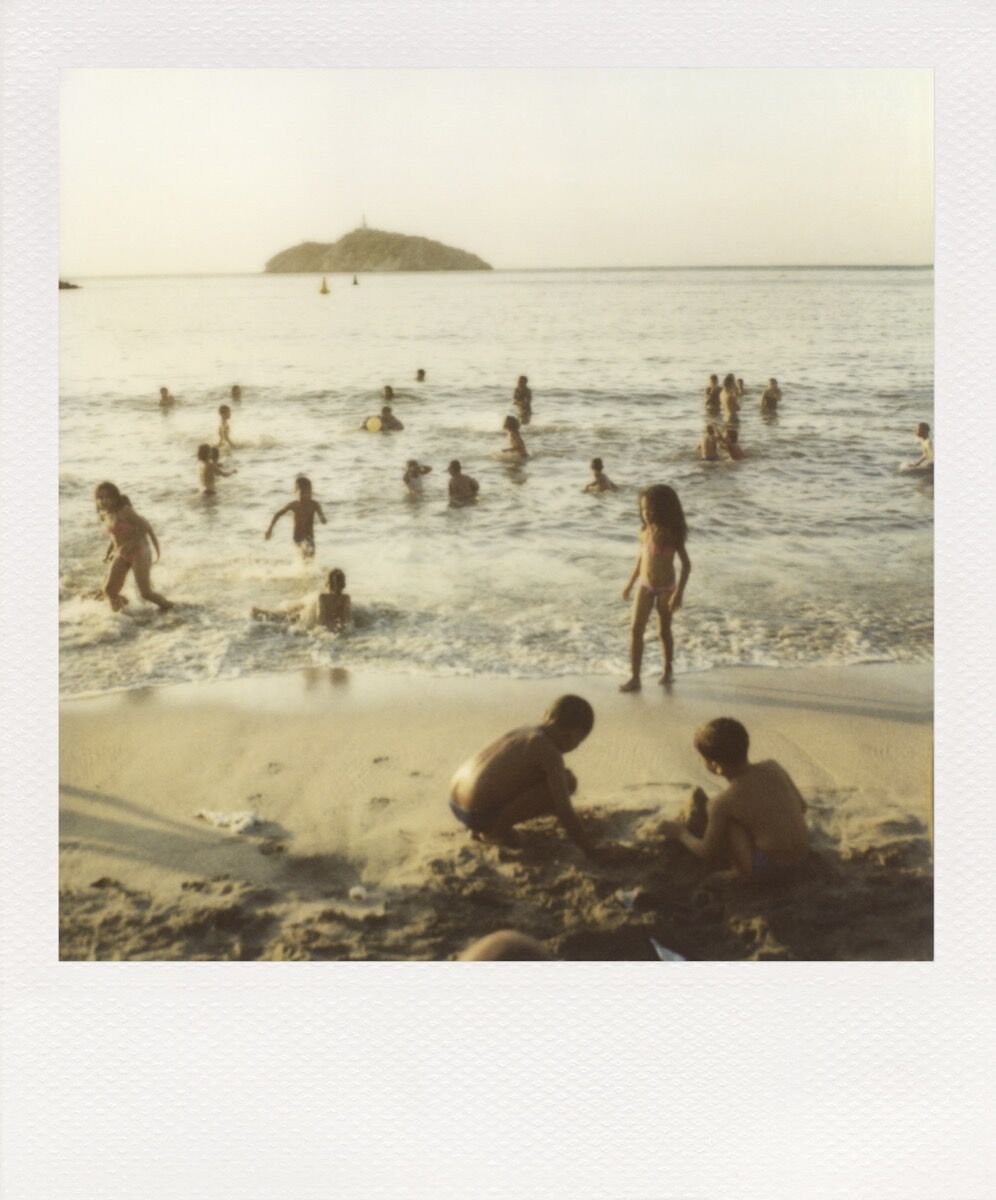 Indeed, the individuals O'Brien met along his journey opened his eyes to the creativity and diversity of the country. "There's a lot of creativity in Colombia that's expressed in ways that don't get a lot of recognition," he says. He recalls three young street performers he encountered in the north of Bogotá in 2010, who, at a stop in traffic, would run into the intersection, climb single file atop one another's shoulders, and juggle sticks they'd lit on fire. "It's all to earn a living at the generosity of motorists who might give them some coins and bills," he says. "It's a really different society; it was something that impressed me—their artistry, but also that economic reality."
In La Guajira—another place O'Brien was discouraged from traveling to as a Fulbright fellow—he met a young boy who was eager to show off a toy he'd fashioned from spare items, like wood and hub-caps. "It's the largest indigenous population in Colombia, called the Wayuu, and they're subject to extreme social injustice," O'Brien says. As he recalls, when the young boy saw him, he came out from his family's adobe home to show him the toy. "He's in the middle of nowhere, where you can't buy toys," he says. "I just loved his creativity and the pride in his creation."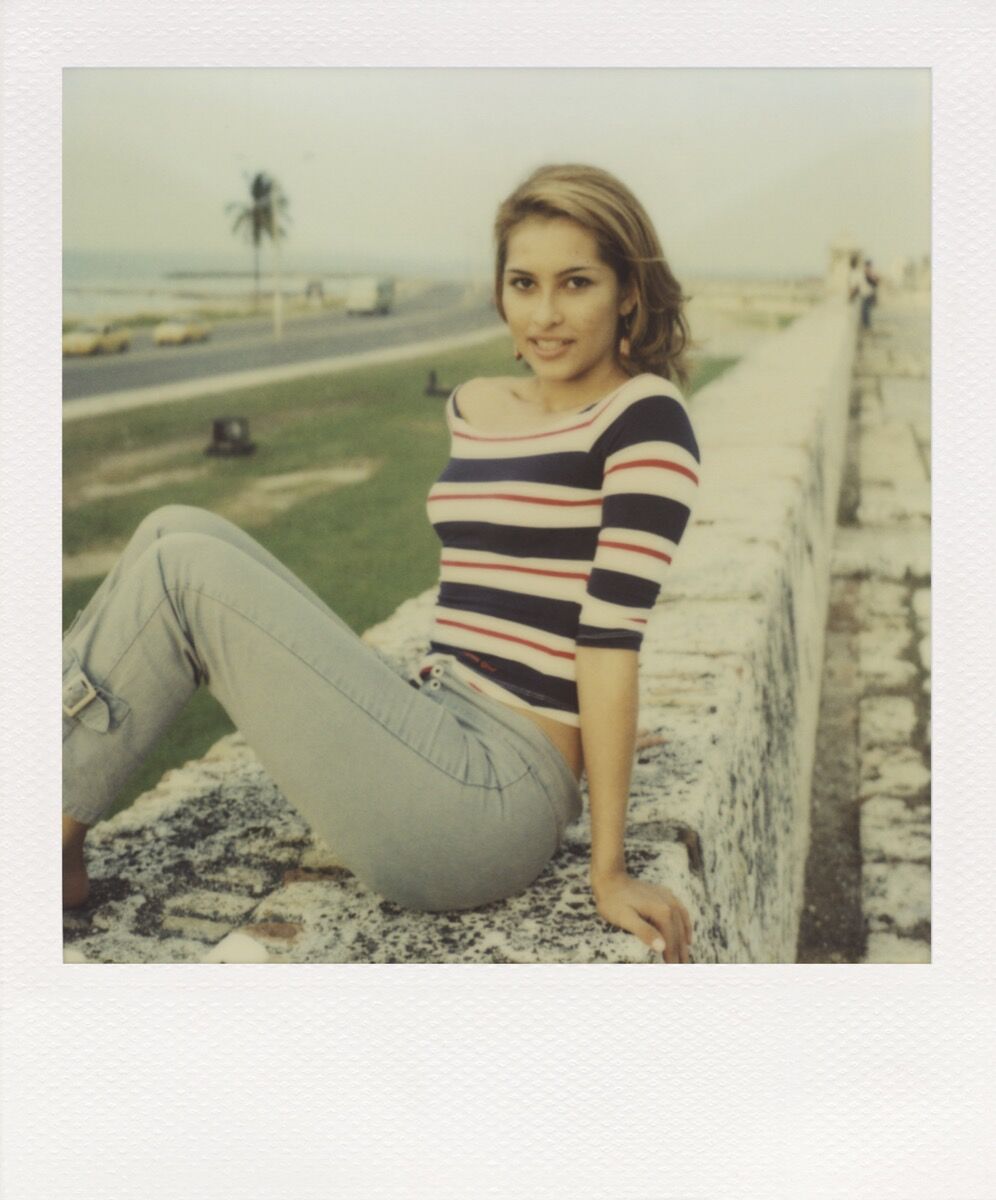 Each experience, he says, further expanded this vision of Colombia. "In the midst of harsh realities—crime, war, inequality—I'm interested in photographing the beauty," he says. And while Colombia has changed drastically since his first trips there—foreigners, once a rarity because of the risks involved, are now backpacking and hostel-hopping along the travel circuit—the political and social tumult is still a real issue.
"One reason why the coverage continues," he says, describing a BBC radio broadcast he'd listened to that morning, "is that it continues to happen—but that's also what interests the press," he adds, referencing the saying "if it bleeds it leads." But 50 blown-up Polaroid prints hanging at the Colombian Consulate paint a picture of the warmth and kindness that resides there, too.