A report from London's Independent.
"Once my children say it's good, that's when I know it really is good." It's the ethos Yaya lives by, and a good one, as children are the hardest of all critics to please. At least I know I'm not the guinea pig, and the pretty plate of baked snacks – which includes some of the best banana bread I've ever eaten – is testament to her trial and error baking. You'd never know the majority of her baking is free of eggs, flour and sugar. They're made as healthy snacks for her young children, instead of filling them with sugary alternatives. Although not a vegan, Yaya, who originates from Costa Rica, is adamant that a meat-free diet is the healthiest way to live.
She and her husband Juda Fari own and run Ital Creations in Basseterre, St Kitts. They're local people – known as cruise mates – and they introduce us to another side of the food of the Caribbean. The word "ital" comes from the Rasta term for vital and the second part, creations, is a nod to their creativeness in teaching people about the health benefits of vegan and vegetarian food – meaning that what they are doing is vital. And rightly so. But they've got a long way to go in getting their message across the islands, considering a large part of the Caribbean diet is based on meat. And just the mere mention of vegetarianism – let along being a vegan – sends many Caribbean chefs into a whirling fury. It's something that is seen as a fad – along with choosing to follow a gluten free diet.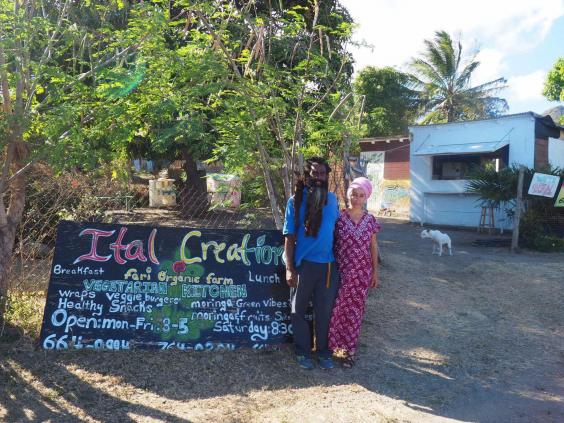 Many of the Caribbean islands have a very high yearly intake of meat, which is led by The Bahamas who rank fourth in the top 20 counties who eat 109.5kg per person a year, followed by Bermuda at ninth with 101.7kg, St Lucia in 14th place who eat 93.6 kg and Saint Vincent and the Grenadines eat 91.4 kg and appear 17th in the list. Only European countries appear more in the list than the Caribbean.
But the duo are welcoming and incredibly passionate about what they do on their organic farm, which has been in the family since the 1960s. Juda took it over in 2005 and has based it on the practices he learned in Costa Rica.
As well as the main site we're at, there's a sister site at Ross University's Farmer's Market  where they're extremely popular and sell their incredible shakes. Our favourite was the green smoothie made from parts of the moringa tree – which they call the miracle tree- fresh coconut and banana.
Judah and Yaya say the moringa tree, otherwise known as the drumstick tree, has many health benefits. It grows in central and south America, most of Africa and across centre and South East Asia. The leaves have seven times more Vitamin C than oranges, four times more vitamin a as carrots, four times the calcium of milk, three times the potassium of bananas and two times the protein of yoghurt.
The seeds can also help with energy, sleep, blood pressure, hair and skin. They're white and pretty hard, but we're encouraged to eat one and warned to save something to drink to chase it as they're incredibly bitter.
After the baked goods, we eat mini mangos and are encouraged to throw the remnants into the hedge. "Go ahead, we do it, it's good for the ground", they insist. There's something slightly odd about doing it, but it also feels very refreshing – and why not. It rots down and is good for the ground. It's like a naughty child being let loose in the garden.
When it comes to the food on offer for lunch, there are no menus, but instead we're told what's on today's menus and make a there and then decision – we choose from wraps and veggie burgers and baked veggie patties. It's refreshingly easy and you're more pleasantly surprised with what arrives than if every detail of your meal is spelt out before you've even seen it.
Lunch is served under the shade from the mango tree. It's light and supposed to increase energy, rather than make you feel heavy and sleepy and everything comes from the organic farm that sits behind the small kitchen. The burgers are made from hydrated chickpeas, split peas and lentils and fresh organic seasoning.  The salad has more than seven ingredients (smashing our five a day), including greens, Thai purple basil leaves and flowers, moringa leaves and flowers, carrots , tarragon and topped with veggie "nuggets"  (made from the same as the burger).  I had the fire roasted breadfruit – fire roasted refers only to the way it's cooked. I'd seen the ominously named breadfruit on menus before. It's topped with pink beans in a freshly made tomato sauce with a salad and breadfruit hummus. It's all tasty, incredibly fresh and Judah and Yaya will sit down with you and chat – it's all part of the experience.
Aside from the food, involving the community in what they do is extremely important to them. Their mission is shared through showing documentaries, guided tours of their organic farm, organised sport and most recently, yoga. The idea is you come for a yoga class and then fill up on their organic food and drinks.
Their ethos of juice shakes, yoga and clean eating is like something that would fit perfectly into leafy south London's Clapham where yummy mummies strut around in their Sweaty Betty uniform and sip on brightly coloured juices through clear plastic take away cups post yoga. It's something that's way ahead of their time in St Kitts and would make a killing in London.
But they're not doing it for the money. They desperately want people to know about the health benefits of this type of lifestyle. They're happy and healthy and profuse that they will not take their children to the doctor unless it's something they cannot cure themselves. A practice Hugh tests by asking for help with an infected finger that has been angry and swollen for over six months as well as heat rash on his neck.  As soon as she saw it, Yaya broke off a huge stem of cacti and rubbed the juicy flesh on his neck. A yellow thick and rather pungent gloop, which she warned you mustn't ingest.
It's an ethos that has been gaining traction for some time in the UK and is getting a sort of fad status. But here, it's real and their way of life. Long may it spread as their healthy way of life is enlightening, compassionate and educational.  We all need more of that.